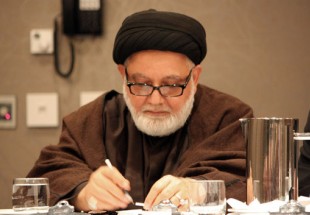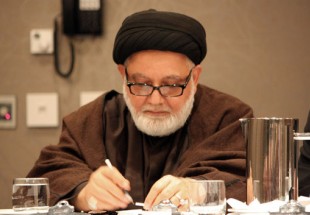 Ayatollah al-Sistani's representative pointed out that all pilgrims in Hajj 'dress in the simple two-piece ihram clothes which emphasize human unity and brotherhood.'
Hujjat al-Islam Sayyid Murtaza Kashmiri, the representative of Grand Ayatollah Sayyid Ali al-Sistani in London, reviewed the necessary manners and legal rulings of the Hajj pilgrimage, and reiterated, "Hajj is one of the largest Islamic assemblies."
His Eminence added that the Hajj, with the participation of people from various cultural and ethnic groups from around the world, presents the pure faith of the Muslims.
"The pilgrims issue a single slogan against the slogans of polytheism and ignorance," he said.
According to Rasa, Ayatollah al-Sistani's representative explained that Hajj is a means to gain nearness to God and added that the annual pilgrimage to the Saudi Arabian city of Makkah fulfills the social, cultural, economic, political and educational interests for most Islamic societies.
Hujjat al-Islam Kashmiri stated that equality is one of the benefits of Hajj. During Hajj, Muslims display the highest degree of human equality, humility and fraternity. All pilgrims dress in the simple two-piece ihram clothes which emphasize human unity and brotherhood.
"Hajj eradicates all human and political boundaries destroyed and all the Muslims of every nationality and ethnicity come together to worship God Almighty," he added.
He explained that one of the ways to combat terrorism is through prayer and humility and added that through humility, Muslims can fight terrorism and Takfirism.
The Hajj which is named as one of the five 'pillars of Islam', is performed from the eighth through the twelfth of the lunar month of Dhul-Hijjah, which starts on September 21 this year.
All able-bodied Muslims are religiously obliged to perform the Hajj pilgrimage once in their lifetime. The teachings of Hajj aim to remind Muslims that they are not joined together on the basis of colour or race, but on the basis of belief in God and His Messenger, the Prophet Muhammad (S).