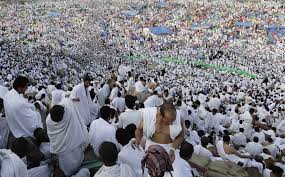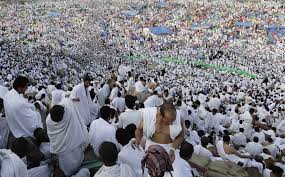 Muslims from around the world pour into Makkah every year to perform hajj, one of the five pillars of Islam.
Hajj consists of several acts of worship, which are meant to symbolize the essential concepts of the Islamic faith, and to commemorate the trials of Prophet Abraham and his family.
Every able-bodied adult Muslim who can financially afford the trip must perform hajj at least once in a lifetime.
Hajj is officially expected to fall between September 21 and 26, with the climax falling on September 22 when the faithful descend the Mount `Arafat.
"Pakistan International Airlines (PIA) would transport 55,800 intending pilgrims to Saudi Arabia including 43,600 through 148 pre-hajj flights," an official of the Pakistani Ministry of Religious Affairs and Interfaith Harmony told APP agency on Saturday, August 29.
"While more than 12,200 intending pilgrims would be transported through regular scheduled flights to Saudi Arabia," he added.
According to the official, 23,000 Pakistani hajj pilgrims have arrived in Saudi Arabia through 113 flights for the annual pilgrimage.
The pilgrims have being transported to Jeddah and Madinah from ten gateways including Islamabad, Peshawar, Lahore, Karachi, Quetta, Multan, Sialkot, Faisalabad, Rahimyar Khan and Sukkur.
The official said as many as 143,368 pilgrims would perform the sacred ceremony this year, 50% of them would perform hajj through the government scheme and 50% through private scheme (hajj Group Organizers).
In Nigeria, similar procedures have being taken to transport thousands of hajj pilgrims to the holy lands.
On Saturday, the National Hajj Commission of Nigeria (NAHCON) said it had airlifted 18,909 intending pilgrims to Saudi Arabia for the 2015 pilgrimage.
About 76,000 intending pilgrims from the 36 states and FCT are expected to participate in this year's Hajj in Saudi Arabia.
Till today, the NAHCON has recorded 49 flights of pilgrims mostly from Kaduna, Lagos, Sokoto, Katsina, Oyo, Lagos, Zamfara and Kogi, Alhaji Uba Mana, the director of the public affairs of the commission, told the News Agency of Nigeria (NAN).
"Buses are readily available at Jeddah International Airport to transport pilgrims to Madinah," Mana said.
"Those airlifted to Medina on Aug. 23, will move to Mecca on Aug. 29.''