Middle East
Syria
Hama: Terrorists Disappointed, Disintegrated After Losing Senior Commander
The terrorists have grown disappointed after the most senior commander of Jeish al-Izza who was very close to Ankara was killed in battle with the Syrian Army in Northern Hama, media reports said.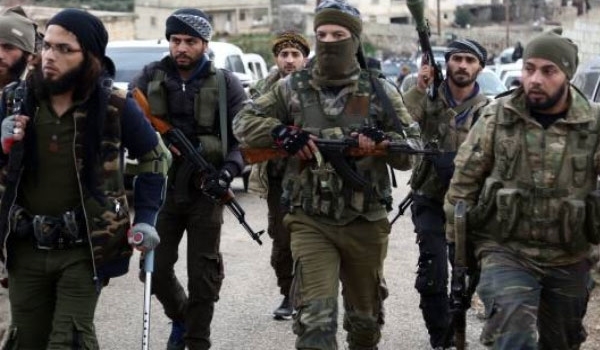 The Arabic-language al-Watan newspaper reported that Jeish al-Izza commander Abd al-Baset al-Sarout, nom de guerre 'Custodian of Syria Revolution', who had recently been injured in clashes with the Syrian Army in Northern Hama has succumbed to his injuries.
The al-Watan noted that Sarout was one of the main role players in orchestrating attacks on the Syrian Army's military positions in Northern Hama and Southern Idlib as well as attacks on safe and deescalation zones, and said that a wave of disappointment and collapse has spread among terrorists in Hama.
The Xeber24 news website, meantime, pointed to Turkey's support for Sarout, and said after he left Northern Homs for Turkey in 2016, he returned to Idlib with Turkey's backup to lead the terrorist groups.
Meantime, after Sarout was severely injured in battle with the Syrian Army in Northern Hama over the past two days, he was transferred to one of the best hospitals in Turkey equipped with expert medical teams. Yet, reports said despite all medical efforts in Turkey, the top commander has lost his life.
In a relevant development on Sunday, the Damascus Army backed by the Syrian and Russian air force warded off several attacks launched by Tahrir al-Sham al-Hay'at (the Levant Liberation Board or the Al-Nusra Front) in several regions to regain the regions they have already lost in Northern Hama, killing more than 130 terrorists.
"The Syrian Army in an ambush operation warded off a massive attack by Tahrir al-Sham terrorists from the town of al-Jamleh in Northern Hama, killing at least 30 terrorists and destroying a bomb-laden vehicle of Turkistan party," the Arabic-language website of the Russian Sputnik news agency quoted a military source as saying.
The source pointed to the continuation of clashes between the Syrian Army and terrorists in al-Hamamiat-Karnaz axis in Northern Hama, and said the Syrian Army troops have killed over 100 terrorists in that axis and reinforced all their military positions there by restoring security to the surrounding areas of both towns.
The clashes also continued for the third day in battlefronts of Tal al-Melh and al-Jobin.
Meantime, the Russian and Syrian warplanes pounded the military positions and movements of terrorists in Khan Sheikhoun, al-Latameneh, Kafar Zita, al-Zuka, al-Arbaeen, Kafar Nubl, Tarmeleh and Hass in Southern Idlib and Northern Hama, destroying a large number of their military vehicles and hardware.
The Arabic-language service of Russia Today also reported that 17 military and armored vehicles of the terrorists were destroyed and several foreign terrorists were killed during fending off of an attack by terrorists on Karnaz town.