Palestine
Hamas condemns Zionist Slaughterer Israeli attack on Latrun Monastery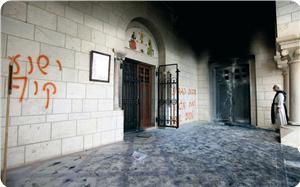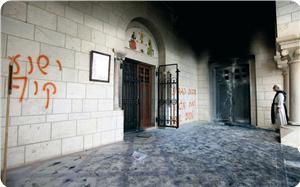 Hamas Movement considered that the Israeli attack on Latrun Monastery and religious sites in Palestine an offense and a racist policy, and called for facing it both domestically and internationally.
Hamas' remark came following an attack on Latrun Monastery church in occupied Jerusalem by Jewish extremists who set fire to the entrance door of the church and spray-painted slogans against the Christian religion on its walls.
It said in a statement on Tuesday: "We in Hamas strongly condemn the crime of aggression on the Latrun monastery in occupied Jerusalem. We consider it a racist heinous crime and a flagrant assault on the sanctity of mosques and churches."
The Islamic resistance movement also pointed out that such attack exposes the true face of the racist Israeli occupation.
It called on the Palestinian people to join forces in confronting the occupation and settlers' arrogance, as it called the international organizations and the Arab League to protect the Islamic and Christian holy sites and support the steadfastness of the Palestinian people in Jerusalem and all Palestinian territories.