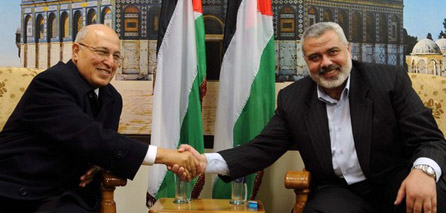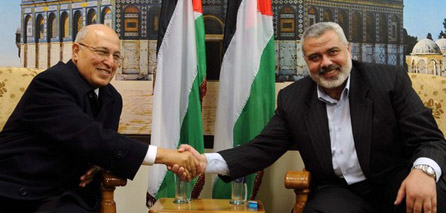 Osama Hamdan, the international relations official in Hamas, and Azzam Al-Ahmed, the head of Fatah's parliamentary bloc, met in Beirut on Wednesday to discuss a number of important topics, a senior Palestinian source told the PIC on Friday.
The source, who wished to remain anonymous, said that the stalemate in the settlement process was discussed in light of the American cover for Israel and the reconciliation issue in addition to the Palestinian refugees in Lebanon.
Hamas renewed insistence on achieving national reconciliation on the basis of real, and not decorative, partnership, the source said, adding that Hamas said that American pressures should not be allowed to obstruct such reconciliation.
The source noted that Hamas called for declaring an end to the peace process and returning to the resistance option. He added that Hamas expressed readiness to work with all Palestinian factions to secure the Palestinian refugees' humanitarian and social rights in Lebanon.
A Fatah official later told the PIC that the meeting in Beirut followed American pressures on Fatah to engage in direct talks with Israel, adding that circles within Fatah were convinced that national unity is the only way out of the current frustration over absence of progress in the peace negotiations.