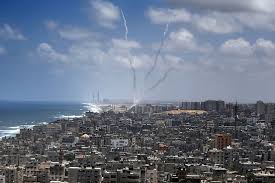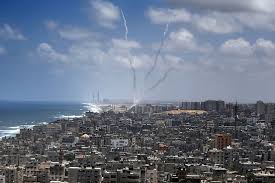 Terrorist Tel Aviv regime sources say Palestinian resistance fighters have fired over 520 rockets from the besieged Gaza Strip into Occupied Territories since a shaky ceasefire collapsed on Tuesday.
According to Press TV, Zionist regime's authorities say the armed wing of Hamas, the Qassam Brigades fired over 40 rockets into Occupied Territories since Friday mid-night.
Media reports say Palestinian rockets also targeted Israel's Ben Gurion Airport on Saturday.
Sources say the rockets have targeted several Zionist cities and communities including Sha'ar HaNegev and Eshkol, causing property damage.
Zionist regime's channel 10 has captured the moment when one of the rockets targeted Sha'ar HaNegev in southern Occupied Lands.
Latest reports say Palestinian fighters also fired 3 rockets at Israeli tanks east of Rafah.
Following the incidents, Zionist regime's Prime Minister Benjamin Netanyahu pledged to intensify the ongoing brutal offensive on besieged Palestinian enclave.