Palestine
Hamas: Five hunger-striking Palestinian inmates need immediate lifesaving intervention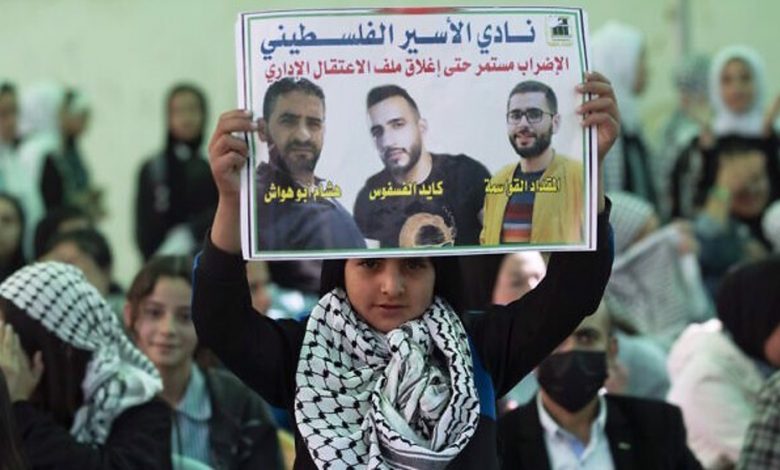 The Palestinian resistance movement Hamas has voiced support for the five Palestinian prisoners who continue their hunger strike in protest against Israel's so-called policy of administrative detention, stressing that they need immediate life-saving intervention.
Hamas spokesperson Abdel-Latif al-Qanou made the remarks in a press release on Sunday evening, saying urgent action is required to force Israel to respond to the demands of Palestinian inmates on hunger strike and end their suffering, which is getting worse day-by-day, the Palestinian Information Center reported.
Qanou noted that the Palestinian prisoners are capable of withstanding all conditions in the face of Israel's unjust policy of administrative detention.
The Hamas official said his movement will continue to support the five Palestinian prisoners who are still on hunger strike until their demands are met and their rights are restored.
The five Palestinian prisoners are on an open-ended hunger strike in protest at their indefinite, unfair and unexplained imprisonment at the hands of the Tel Aviv regime
Thirty-four-year old prisoner Kayed Fasfous is the longest hunger striker among the five, who has been on hunger strike for over 120 days.
The other prisoners are Alaa Aaraj, Hesham Abu Hawwash, Ayyad Hureimi and Lo'ai al-Ashqar
Fasfous has been in hospital for nearly two months following serious deterioration in his health conditions.
The five Palestinian hunger strikers have been demanding an end to their administrative detention based on a "secret file" even their lawyers are not allowed to view. The so-called files are provided by the Israeli intelligence service.
Meanwhile, Hussam Badran, a member of the Hamas political bureau, has stressed that the prisoners' issue is a top priority for the movement.
Burden went on to say that Hamas is working to free and defend Palestinian prisoners in Israeli jails, adding that the Gaza-based resistance group is leading an international legal action in defense of the inmates.
Intl. community urged to take immediate action to save hunger-strikers
Separately on Sunday, Palestinian Health Minister Mai al-Kaila warned of deteriorating health conditions of the five prisoners currently on hunger strike, calling on the international community and human rights organizations to take immediate action to save their lives.
She said the ministry is following up the health status of all Palestinian prisoners behind Israeli bars, who are mostly suffering from medical negligence and harsh conditions of the prisons, and need urgent medical treatment, the Palestinian Information Center reported.
The Palestinian minister further pointed to the case of Fasfous, who is at the Israeli Barzilai Medical Center, where doctors have warned he is close to sudden death at any moment.
Fasfous has been developing symptoms suggesting a clot in his blood, which is an early warning of the risk of sudden death.
He is also suffering from irregular heartbeats, kidney problems, low blood pressure and serious decline in body fluids and vitamins.
The Palestinian Commission of Detainees' and Ex-Detainees' Affairs has already said Fasfous's health condition is extremely critical and that he might die any moment.
Earlier in the day, dozens of Palestinians, peace activists, and former prisoners marched in the occupied West Bank city of Ramallah in support of the five inmates on hunger strike.
The participants chanted slogans in support of Palestinian prisoners and raised the photos of hunger strikers, condemning Israel's administrative detention policy.