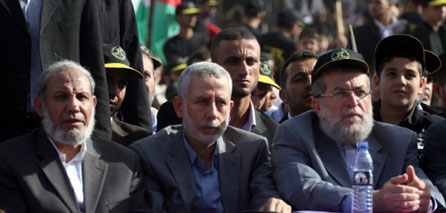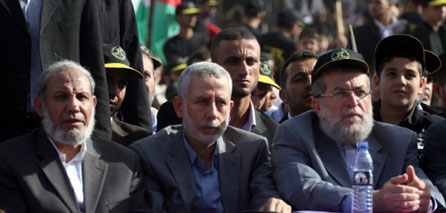 Tens of thousands of Islamic Jihad supporters and sympathizers were reported to have joined a mass rally in Gaza City on Friday to mark the 23rd anniversary of the foundation of the Islamic Jihad movement and assassination of its founder and spiritual leader Dr-Fathi Al Shiqaqi.
A Senior leader Dr-Ramadan Shallah sent a recorded message from Damascus commemorating the 15th anniversary of the assassination of former leader Fathi Shiqaqi in Malta, suspected to have been carried out by the Mossad.
Dr Ramadan Shallah, secretary general of the Islamic Jihad has delivered his recorded speech for the audiences as saying:"Israel will not bring peace to the region, it will only bring war and destruction and therefore, the slogan of all should be that Israel must be wiped out of existence," said Shallah. He warned of a "third Nakba" should the peace negotiations continue to fruition.
Hamas leaders were among of the audiences who attended the Islamic Jihad rally, Dr Mahmoud Azahar, senior Hamas leader was head of Hamas delegation to the rally.
"The choice of negotiation has reached deadlock, and we are wondering why is there such an insistence by the Palestinian Authority on negotiation with the enemy," said Shallah.
Senior Hamas and Islamic Jihad officials spoke at the event, with Hamas leader Khalil Al-Haya saying the two groups represented "the heart of the resistance."