Palestine
Hamas, Israel agree to another 72-hour truce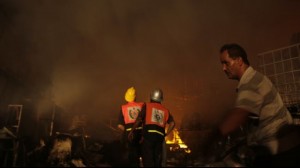 The Palestinian resistance movement Hamas and Israel have agreed on a new 72-hour ceasefire in the besieged Gaza Strip.
The Egypt-brokered truce will reportedly come into effect at 2100 GMT on Sunday.
"Israel has accepted the Egyptian proposal for a ceasefire," AFP quoted an official close to negotiations between the two sides in the Egyptian capital Cairo.
"In light of Israel's acceptance of the truce and their return without pre-conditions … we will inform the Egyptian brothers of our positive response," Izzat al-Reshiq, a Hamas negotiator in Cairo, said.
Hamas Political Bureau chief Khaled Meshaal said that the temporary truce is one of the ways to ensure successful negotiations and facilitate the delivery of humanitarian aid to Gaza.
The Hamas chief added that the final goal is to have the demands of Palestinians met and the Gaza blockade lifted.
"We insist on this goal. In the case of Israeli procrastination or continued aggression, Hamas is ready with other Palestinian factions to resist on the ground and politically and… to face all possibilities," he said.
A previous 72-hour truce in Gaza ended on Friday morning without any agreement to extend it.
Shortly after the expiry of the truce between Tel Aviv and Hamas, the Israeli regime resumed pounding the Gaza Strip and Israeli tanks were redeployed to their previous positions during the Gaza war.
Chief among Hamas demands is a full Israeli withdrawal from Gaza and an end to the Israeli siege of the costal enclave.
Gaza has been under Israel's blockade since June 2007, a situation that has caused a decline in the standards of living and poverty.
The Israeli war on the Gaza Strip began on July 8. According to Palestinian health officials, the overall Palestinian death toll from the brutal Israeli war on the Gaza Strip has reached 1,940, with most of the fatalities being civilians. Nearly 10,000 others have been also wounded in the attacks.
Latest tallies show that nearly 470 Palestinian children have so far lost their lives in the Israeli attacks against the impoverished Gaza Strip. Children also make up almost one-third of the injured.