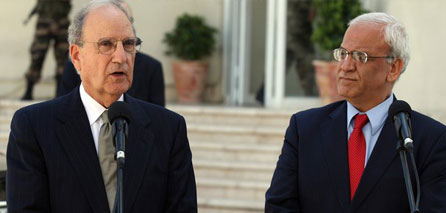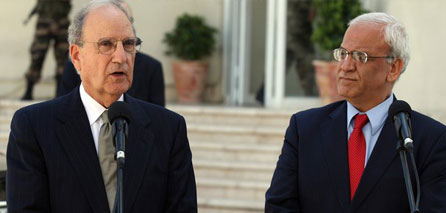 Hamas described the visit by American envoy to the Middle East George Mitchell to the region as "worthless" and carries nothing of benefit to the Palestinian people.
Fawzi Barhoum, a Hamas spokesman, said in a press statement on Saturday that the visit falls in line with the American full backing of Israeli policies and pressures on the Fatah authority in Ramallah to offer more concessions to the "enemy".
"We don't pin hopes on this visit," he said, adding, "We don't trust the American role that is biased in favor of occupation … our priority at present is unity of the internal Palestinian lines and reinvigorating the resistance option to confront the Zionist schemes".
He said that Fatah's continued negotiations with the Israeli occupation authority (IOA) whether directly or indirectly posed serious threats to unity of Palestinian ranks.
Barhoum, meanwhile, held Washington responsible for the IOA crimes against the Palestinian people after providing the IOA with unprecedented military support.
The American Assistant Secretary of State for Political-Military Affairs Andrew Shapiro had announced that Washington would supply "Israel" with the biggest ever military aid, noting that the American administration had asked Congress to approve 2.775 billion dollars as special security assistance to "Israel" in 2010.