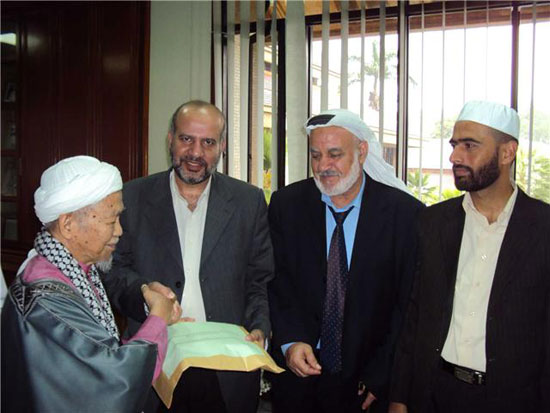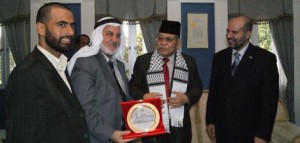 A delegation from the Change and Reform block which represents Hamas in the PLC, visited Malaysia yesterday, the delegation was led by Parliamentary Affairs Ismail Al Ashqar and membership of Dr. Salem Salama, and MP Mushir Al-Masri.
They met with number of heads of local governments in Malaysia in these state of Kelantan, Qadah and Islanjur.
The delegation was received by Sheikh Abdul Aziz Ni'amat, the Prime Minister of the state of Kelantan, Sheikh Azezan Abdel-Razek, chief minister of Kadah state, and Sheikh Abdul Khaliq Ibrahim, head minister of Islanjur.
The delegation was received wide and distinctive welcome, the delegation transfer a real image about the situation of the Palestinian people from the Zionist siege and aggression, which took place in all walks of life.
In addition, they pointed out the Zionist plans and actions that being taken by the Zionist entity against the city of Jerusalem.
The Heads of Governments of Malaysia expressed their sympathy with the Palestinian cause and the suffering of the Palestinian people, deploring the continuation of the unjust siege imposed since more than three years on the Gaza Strip, demanding to break it immediately.