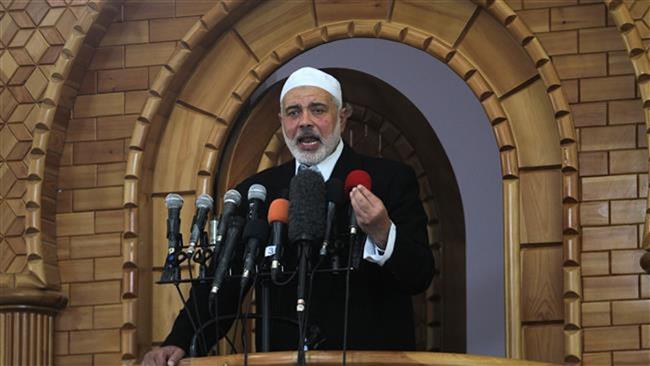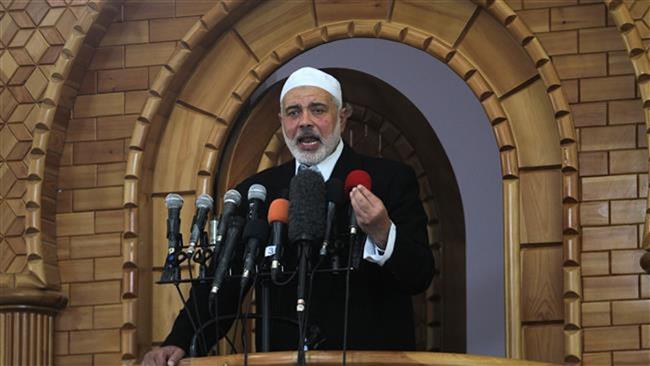 Top Hamas leader Ismail Haniyeh has announced the Palestinian resistance movement's readiness to repel any fresh act of aggression against the besieged Gaza Strip by the Israeli regime.
Haniyeh said on Friday that the Ezzedine al-Qassam Brigades, which is Hamas's military wing, is getting ready "for any future clashes with the Zionist (Israeli) enemy," partly due to the reconstruction of tunnels in the coastal enclave.
"East of Gaza City, underground heroes build tunnels" near the occupied territories, he said, adding that they are "testing rockets every day" in the west of the city.
Haniyeh was addressing thousands of mourners who had assembled at the Great Omari Mosque in Gaza City for the funeral of seven al-Qassam fighters killed this week when a tunnel collapsed.
Describing the tunnels as "strategic weapons" against the Israeli regime, Haniyeh said Hamas fighters are acquiring "all the means to fight and resist."
In early July 2014, Israel waged a new war on the Gaza Strip. The 50-day offensive ended on August 26 with a truce that took effect after indirect negotiations in the Egyptian capital Cairo. Nearly 2,200 Palestinians, including 577 children, were killed in Israel's onslaught. Over 11,100 others – including 3,374 children, 2,088 women and 410 elderly people – were also injured.
The Israeli aggression destroyed or damaged thousands of homes in Gaza.
Gaza has been blockaded since 2007, a situation that has caused a decline in the standard of living, unprecedented levels of unemployment, and unrelenting poverty.
The apartheid regime of Israel denies about 1.8 million people in Gaza their basic rights, such as freedom of movement, proper job, and adequate healthcare and education.