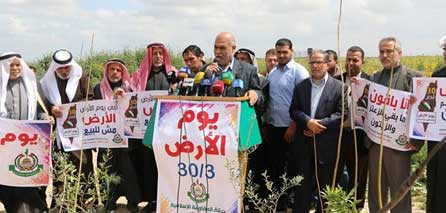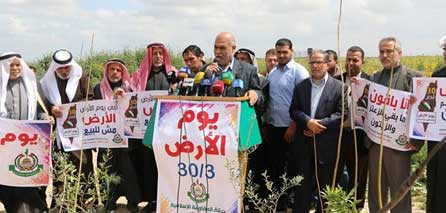 The Hamas leader and the Palestinian Parliament Member Yahya Mousa said that the Palestinian land will never be divided between the Palestinian People and the occupation.
Mousa stressed in a conference east of Khan Younis, during the events commemorating the Land Day, which marks March 30, that the Palestinians where ever they are do not accept dividing their land.
"We all have to declare that resistance the only path to return our land and to restore our stolen rights", Mousa added.
He pointed out that the Israeli siege imposed on our people in Gaza aims to break the resistance, confirming that Israeli attempts are doomed to fail.
He reiterated Hamas's support for Al Quds Intifada saying: "We all have to stand together to support this intifada to help it expands through our occupied land, because it is the way to return our rights, and to achieve our national goals".
The Hamas leader also called on Arabs and Muslims to support Palestinians in their struggle against the Israeli occupation.