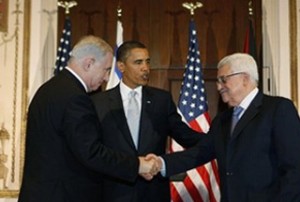 Islamic Resistance Movement (Hamas) censures the meeting between Israeli Prime Minister Benjamin Netanyahu and acting Palestinian Authority chief Mahmoud Abbas and calls it a favor to Tel Aviv.
"The Zionists are very pleased with the meeting as Mahmoud Abbas went to it without any preconditions in contrary to his own vows. Abbas previously said that the Palestinians would not be holding peace talks with Israel unless the Israeli government halts all of its settlement activities," Hamas spokesperson Ismail Radwan said.
Radwan added that Israeli Foreign Minister Avigdor Lieberman had voiced his content over the meeting particularly because Netanyahu told Mahmoud Abbas and US President Barack Obama that Israel does not intend to freeze its settlement activities.
"Wednesday's meeting was just another chance for Israel to keep stalling the implementation of its own obligations," the Hamas official commented.
Radwan underlined that the acting Palestinian Authority chief had not received a permission from Palestinians to negotiate on their behalf.
Obama has described the renewal of Israeli-Palestinian peace talks as one of the major goals of his presidency. The US President's willingness to revive the Middle East road map and his emphasis on meeting obligations is regarded as 'an important litmus test of farness and balance' for him.
Tel Aviv is currently under intense pressure form the Obama administration to halt illegal settlement construction in the West Bank. Washington regards Israeli settlements as a hurdle in the way of a comprehensive Israeli-Palestinian peace.
Under the 2002 Roadmap for Peace plan brokered by the US, the EU, the UN and Russia, Israel must 'dismantle settlement outposts erected since 2001 and also freeze all settlement activity'.
More than 285,000 Israelis currently live in the settlements — considered by the international community as having been illegally constructed. The settlements are erected on occupied lands that Palestinians have laid claim to for a future state.