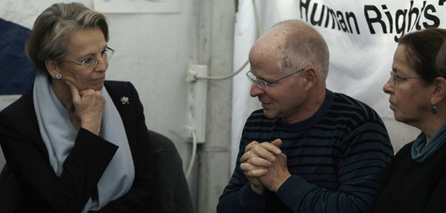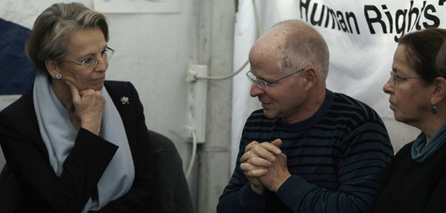 The Hamas Movement strongly denounced French foreign minister Michele Alliot-Marie for describing, during a visit to the occupied Palestinian territories, the capture of Israeli soldier Gilad Shalit as a war crime and ignoring the suffering of thousands of Palestinians who were kidnapped from their homes.
In a press release on Friday, Hamas stated that Shalit was taken prisoner as he was aboard an Israeli tank besieging and pointing its gun at Gaza people.
Hamas underscored that Alliot-Marie's remarks were a diplomatic discourtesy from her side and reflected her blatant bias in favor of the Israeli occupation.
It added that the French minister affronted the Palestinian people and their prisoners in Israeli jails when it made such irresponsible remarks, and demanded the French government to apologize to the Palestinian people.
For its part, the Palestinian resistance committees said that Alliot-Marie's claims that the Palestinian resistance committed a war crime when it captured an Israeli soldier proved France's full support for the policies of the Israeli occupation in the region.
Spokesman for the committees Mohamed Al-Barim stated that Alliot-Marie knows well that Shalit was aboard an Israeli tank used to kill Palestinians east of Rafah area when he was captured by resistance fighters, stressing that the resistance has the right to take every Israeli assaulting the Palestinian people prisoner.
Spokesman Barim emphasized that the perpetrators of war crimes are the people who are occupying the Palestinian land, and committing massacres and ethnic cleansing against the Palestinians.
The spokesman demanded France, which intervened more than once to have Shalit released, to desist from statements showing loyalty to the Zionist project in the region and doing no justice to the Palestinian people who struggle for their freedom.
In a related incident, spokesman for Wa'ed society for detainees Abdullah Qandil told the Palestinian information center (PIC) that the families of Gazan prisoners in Israeli jails set up a sit-in tent near Beit Hanoun crossing, north of Gaza, in protest at the remarks made by Alliot-Marie who ignored the suffering of about 7,000 Palestinians detained in Israel's jails.
Spokesman Qandil added that some of the families under the insistence of Alliot-Marie on not meeting them to listen to their suffering got irritated and expressed their anger at her through intercepting her motorcade.