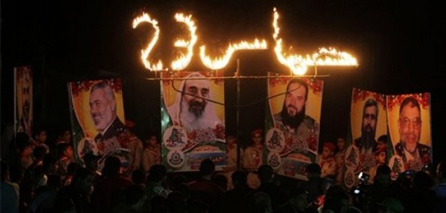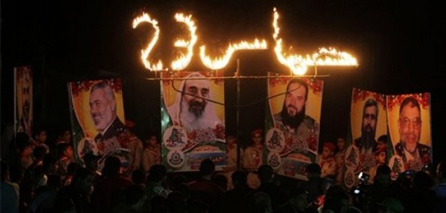 The Palestinian Islamic Resistance Movement-Hamas, has declared that it would celebrate its 23rd anniversary of foundation on Tuesday 14/12/2010 on the green land of Al Katiba in Gaza city.
Palestinian people will mark the 23rd anniversary of Hamas foundation on Tuesday 14/12, the movement started its program for the huge celebration by organizing small rallies across Gaza Strip, in Al Nusseirat refugee camp, middle of Gaza strip small rallies marched in streets of the camp, while marchers were holding Hamas green flags and wearing military uniforms as a sign for resistance and power in face of Zionist occupation.
In Jabaliya refugee camp, northern Gaza Strip, participants carried posters of past and present leaders including Dr. Nizar Rayan, Sheikh Ahmed Yassine, Dr. Abulaziz Al Rantisi and Sheikh Selah Shihada the senior leader of Ezzedeen Al Qassam Brigades who were all brutally assassinated by the Zionist occupation air force(F16s).
The Participants flamed a word read as "Hamas 23″ referring to the 23rd anniversary of Hamas establishment.
The Islamic Resistance Movement-Hamas marks the anniversary of its foundation in 14/12 of every year, however, head of Hamas public activity Mr. Ashraf Abu Zayed expected huge masses of Palestinian people and Hamas members will participate in this year- 23rd anniversary.
The new logo for Hama's 23rd anniversary designed perfectly to be very comprehensive, it included the
Dome of the Rock as a sign for the occupied Islamic holy land should be freed from Zionists , Ak47 as a sign for Palestinian resistance, a key as a sign for the Palestinian right of return, colored bird as a sign for the freedom of the Palestinian prisoners in Zionist occupation jails, a full green map of Palestine, a number of " 23″as a sign for the 23rd anniversary, a strong phrase indicating the steadfastness of the Palestinian people saying as:" we remain committed to the covenant ", and finally the Palestinian flag as a sign for Palestinian unity and Palestine.