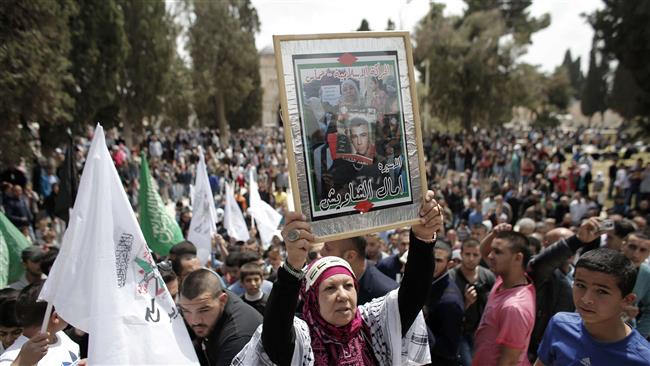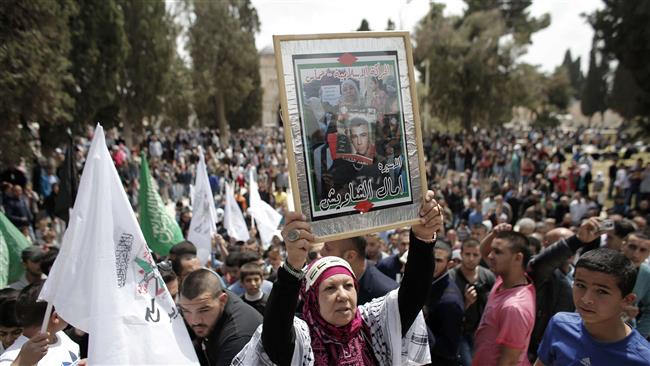 The Palestinian resistance movement, Hamas, has called for the release of hunger-striking inmates held by the Israeli regime and the Palestinian Authority (PA).
Gaza-based Hamas Prime Minister Ismail Haniya on Sunday demanded the release of Khadar Adnan, a Palestinian prisoner who has been on hunger strike for about 40 days in protest against his administrative detention by the Israeli regime. He is said to be in critical condition.
Administrative detention is a sort of imprisonment without trial or charge that allows the Tel Aviv regime to incarcerate Palestinians for up to six months. The detention order can be renewed for indefinite periods of time.
A father of six, Adnan was arrested in July 2014 and was sentenced to the so-called administrative detention for the 10th time in his life. Palestinian officials say he has lost a considerable amount of weight and is suffering from arrhythmia.
Haniya also called for Islam Hamad to be set free. Hamad has been imprisoned by the West Bank-based PA, with reports saying that he has been refusing to eat for more than 60 days.
Israel "arrests and kills our sons and our brothers, while our brothers use the same means," Haniya said.
The call for the release of hunger-strikers comes as the Israeli cabinet has approved a proposed law authorizing the force-feeding of Palestinians who are on hunger strike in Israeli jails.
Proposed by Public Security Minister Gilad Erdan, the legislation says Palestinian prisoners will be fed forcibly if their life is in danger. The bill also states that a doctor can apply the force-feeding measure upon the approval of a district court judge.
The World Medical Association as well as the Israel Medical Association (IMA) has denounced the proposed law, while the Physicians for Human Rights, an NGO, described the bill as a "disgraceful" move.