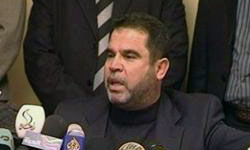 Dr. Salah Al-Bardawil, the spokesman for Hamas's parliamentary bloc, said Monday that his Movement welcomes the report issued by Amnesty International in which it demanded the Zionist entity to end its blockade on the impoverished Gaza Strip.
In a press statement, Dr. Bardawil added that Amnesty's report reflects a change in its position towards Zionist aggressive practices, which means that the world started to get fed up with the Zionist ongoing crimes against the Palestinian people.
In its report, AI said that the Zionist blockade constitutes a collective punishment under international law and must be lifted immediately.
"The Zionist entity must end its suffocating blockade of the Gaza Strip, which leaves more than 1.4 million Palestinians cut off from the outside world and struggling with desperate poverty," AI highlighted.
The report included testimonies from people still struggling to rebuild their lives following the Zionist war, which killed around 1,400 Palestinians and injured thousands more.
As an occupying power, the report said, the Zionist entity has a duty under international law to ensure the welfare of Gaza inhabitants, including their rights to health, education, food and adequate housing.