Palestine
Hamdan : Abbas's backbiting stab at unity accord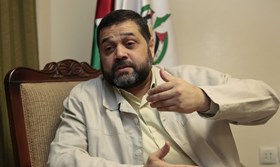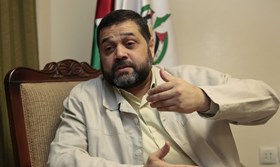 Senior Hamas leader Osama Hamdan slammed the Palestinian Authority (PA) Chairman Mahmoud Abbas on alleged charges condemning Hamas for bombing Fatah officials' homes in Gaza, dubbing Abbas's claims "indecent" allegations and signs of "insanity".
Talking in an exclusive interview with the Palestinian Information Center (PIC), Hamdan condemned Abbas's allegations as proofs of a tacit attempt to renege on the terms of the unity deal.
Hamdan voiced disappointment with Abbas's apathy vis-à-vis Israel's mounting Judaization schemes and sacrilegious assaults against the Palestinian people and Muslims' sanctuaries in Occupied Jerusalem.
"I believe Abbas got the wrong end of the stick regarding Hamas's positions," he declares. "Everybody thinks that the real power and vigor of the movement has been brought to surface in the latest Israeli offensive on Gaza. However, Abbas is misreading such a position as a sign of weakness."
He slammed Abbas's prototypical dictatorship and despotism coming out into view each and every time Hamas voices an opinion that stands at variance with his own.
"Abbas often ends up misinterpreting divergences of stances as proofs of reluctance and steps up pressure on Hamas . . . . Such a totalitarian spirit does not live up to Palestine's revolutionary and anti-occupation project."
"Abbas's backbiting has been a real shock to all Palestinians alike," he confirmed, saying Abbas would have better plucked up his courage and referred to the internal Fatah rift between the pro-Abbas and the Pro-Dahlan rivals.
"Why has Abbas remained mum regarding such an affair? Why holding Hamas accountable?" he wonders, adding: "Abbas knows very well that Hamas has done its best to boost reconciliation."
He said Abbas would better launch a probe into the latest bombings and stop lashing out at Hamas.
Hamdan reiterated Hamas's commitment to healing the internal rift and working on impeaching the blast perpetrators.