Palestine
Haneyya: Al-Qassam Brigades builds tunnels to defend Gaza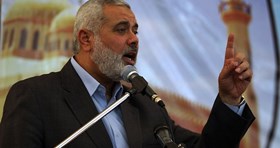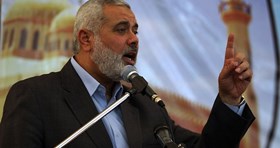 Deputy head of Hamas's political bureau Ismail Haneyya has said that al-Qassam Brigades of Hamas has built tunnels to defend Gaza and use them as starting points for the liberation of all of Palestine. Haneyya made his remarks during his Friday Khutba (sermon) at al-Omari Mosque, where tens of thousands of Palestinian citizens participated in the funeral prayer held for the seven fighters of al-Qassam Brigades, who died a couple of days ago inside a border tunnel.
Haneyya stated that Gaza has made great victories and achievements despite its modest capabilities, describing it as "unbreakable." "Gaza, today, is bidding farewell to the martyrs of preparation and groundwork, who worked underground and painted the path to liberation," the Hamas official said.
He stressed that the truce with the Israeli occupation was never for relaxation but rather for getting prepared and possessing means of strength to confront the Israeli occupation forces in any coming battle.