Palestine
Haneyya: The current Gaza battle restored the prestige of the Palestinian cause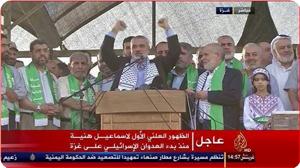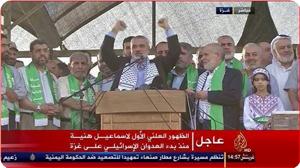 Deputy head of Hamas's political bureau Ismail Haneyya said that during 51 days of the Israeli aggression against Gaza, the upper hand was for Al-Qassam Brigades of Hamas, which started and ended the war by striking Haifa.
Addressing massive crowds of Gazans who flocked into the courtyard of the Palestinian legislative council on Wednesday evening, Haneyya congratulated the Palestinian people on the victory of Gaza over Israel and its military aggression.
"Our people was not able to celebrate Eid Al-Fitr, but today they are celebrating the victory day," the Hamas official stated.
Haneyya also paid tribute to the martyrs of Gaza and all those protesters who died as they were advocating Gaza in the West Bank, and saluted the armed wings of all resistance factions spearheaded by Al-Qassam Brigades for making this victory.
He hailed the Palestinian people for standing by their resistance until it achieved its victory over the occupation, describing the victory of Gaza as beyond time and space.
He also said that the current battle restored the prestige of the Palestinian cause and revived the international solidarity with the Palestinian people.