Palestine
Haneyya: The Palestinian people support resistance in Lebanon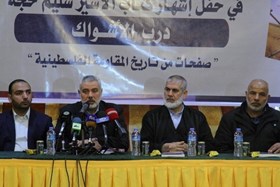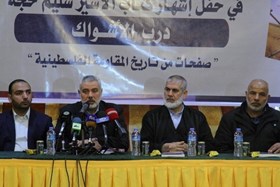 Ismail Haneyya, Deputy Chairman of Hamas Political Bureau, confirmed the supportive stand of the Islamic Resistance Movement, Hamas, with the resistance in Lebanon.
Haneyya said, in a speech in the Palestinian Prisoners' Media Office in Gaza city, on Tuesday, "We affirm our full solidarity with Lebanon and Lebanese resistance and assure that our Palestinian people support the Islamic and Arab resistance".
He said that the assassination of Hezbollah leaders in Syria is a message to the Arab nation to get united on resistance and to end all disputes.
Regarding the issue of Palestinian prisoners, Haneyya said the Palestinian resistance has made a promise to release them all. He stressed that the issue of prisoners is a central file for his Movement.
The Hamas leader also stressed the big role of Gaza Strip in the political arena, saying Gaza is part of Palestine. Unity of the Palestinians should always be a priority, he added.