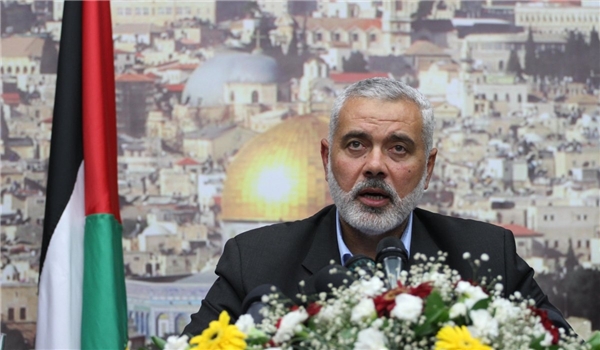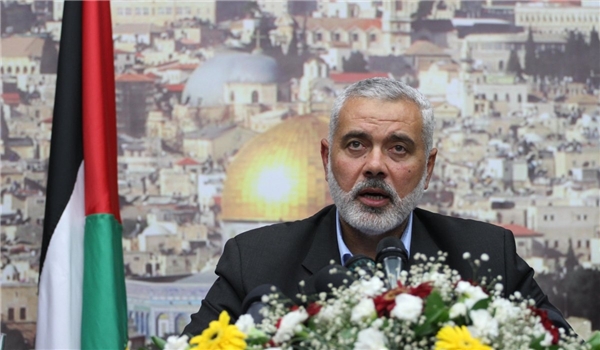 Deputy Politburo Chief of the Palestinian Hamas Movement Ismail Haniyeh underlined that the Palestinian nation and resistance movement are determined to consolidate their good relations with Iran.
"The Palestinian nation and resistance is honored by its close and intimate relations with the Islamic Republic of Iran and is resolved to continue them powerfully," Haniyeh said in a phone conversation with Iranian President Hassan Rouhani on Saturday.
He also extended his condolences to the Iranian president on his mother's demise.
In relevant remarks earlier this month, senior Hamas official Mahmoud al-Zahar underlined that the Palestinian resistance movement was determined to continue its good relations with Iran.
"The movement has good relations with Iran and it is persistent in mataining these ties because Iran unlike others helps Hamas without expecting anything in return," Al-Aqsa satellite television network quoted Al-Zahar as saying.
He pointed to Hamas's relations with other countries, and said, "The movement has good relations with (other) Arab and Muslim states, such as Egypt, Saudi Arabia and the UAE as well."
Also this month, al-Zahar underlined that Hamas and Iran had strategic ties.
"Hamas and Iran have strategic relations and this will not change," al-Zahar told FNA.
He reiterated that the Hamas-Iran relations had resulted in strengthening the Palestinian resistance movement as Iran is a strong supporter of the movement.
Al-Zahar underlined that the Iran-Hamas relations had remained unchanged, and said, "The geopolitics of the region have changed … while Hamas's stance towards its relations with Iran is stable."