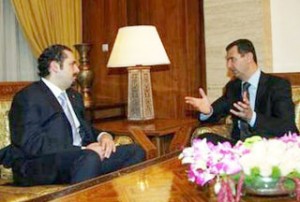 Lebanese Prime Minister Saad al-Hariri has traveled to Syria on fence-mending intentions and in his first official visit to the neighboring country since taking office.
Hariri, currently in the Syrian capital, Damascus, is due to discuss bilateral ties with Syrian President Bashar al-Assad, AFP reported.
Relations between the two sides have been strained since the murder of the 39-year-old premier's father and predecessor, Rafiq Hariri in a massive bomb attack in the Lebanese capital, Beirut on February 14, 2005.
Some in Lebanon have associated the incident, which also claimed 22 others, with Syria. Damascus has vehemently denied the charges.
In March, however, the two sides marked their first diplomatic exchanges since independence from France more than 60 years ago with Damascus opening its first embassy in Lebanon and Beirut sending an ambassador to Syria.
Hariri, earlier in the month, also said that his government "wants to raise brotherly ties" between the two sides.