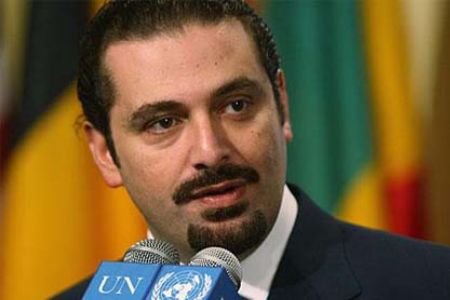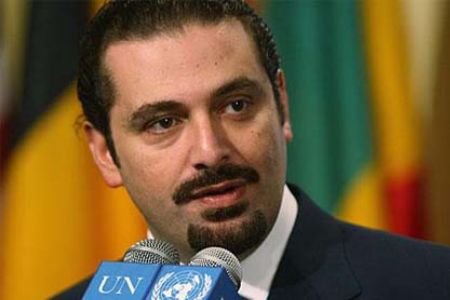 Lebanon's caretaker Prime Minister Saad Hariri says he will not participate in any future government led by a Hezbollah-backed candidate.
A statement issued by Hariri's office on Monday said there would be no "consensual candidate," referring to Hezbollah-backed candidate for premiership Najib Mikati, who has presented himself as a consensual candidate.
"There is a candidate named Saad Hariri, and another candidate for the March 8 forces (Hezbollah-led opposition parties in Lebanon), and the choice in this regard is clear and unambiguous," the Associated Press quoted the statement as saying.
The statement stressed that Hariri's Future movement will not participate in any government headed by a Hezbollah-backed candidate.
The announcement comes as Lebanese President Michel Sleiman has started two days of consultations with lawmakers over their choice of the premier.
In the latest development, Mikati declared his candidacy to head the next government and vowed to cooperate with all parties to help bring the country out of its current political stalemate.
Makati served as Lebanon's premier for three months in 2005 after the departure of the Syrian forces from the country.
After a meeting with Sleiman on Monday, Mikati presented himself as a consensual candidate, reaching out to all sides.
"I don't distinguish between anyone. I extend my hand to everyone without exception … I say to Prime Minister Saad Hariri, let us all work together for the sake of Lebanon," he told reporters.
Asked about the US-backed Special Tribunal for Lebanon (STL), Mikati said that "any dispute can be solved only through dialogue."
Hariri's government collapsed on January 12 after 11 ministers from Hezbollah and its allies quit the cabinet over tensions stemming from the US-backed STL, which is probing the 2005 assassination of former Lebanese premier Rafiq Hariri.
Lebanon's major political groups have questioned the STL's credibility and accused the tribunal of seeking to sow discord in the country.
Meanwhile, Hezbollah Secretary General Seyyed Hassan Nasrallah pledged the movement's support for national unity and called on the international community to follow suit ahead of the parliamentary consultations.
Referring to Monday's and Tuesday's parliamentary sessions to elect the new premier, Nasrallah said that if the opposition candidate was elected as prime minister, he would form a national unity government.
Also on Sunday, Lebanon's Druze leader Walid Jumblatt threw his full support behind Hezbollah to ease the country's struggles for picking a new premier.
Considered a kingmaker in Lebanese politics, Jumblatt's support is crucial to decide who forms the new government out of the two rivals: Hariri or the opposition led by Hezbollah resistance movement.
According to Lebanon's constitution, candidates need the support of at least 65 lawmakers to form a government in the country's 128-seat parliament.
Hezbollah and its allies already have 57 seats against 60 for Hariri's Western- and Saudi-backed coalition.