India
Hateful US military course instigates protest in Mumbai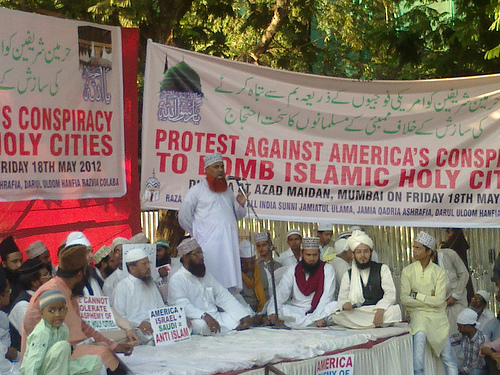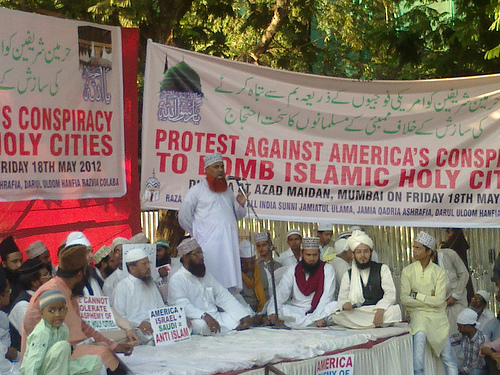 Although the US has withdrawn the Military course that was instigating anti-Islamic sentiments among military officers, anger among Muslims over the issue is growing in India. Raza Academy, an organization of Barelivi Muslims, conducted a protest demonstration against the US for the idea of bombing Mecca and Madina, the holy cities of Muslim world. The protestors also expressed concern at the silence of Saudi Government over the issue.
Raza Acadmey staged protest on Friday in Azad Maidan, Mumbai. Condemning the US military syllabus, Syed Moinuddin Ashraf, presiding the demonstration said, "We believe that this is total in disregard of the Geneva Convention of 1949. It's worse than Abu Garib. What they are talking about is essentially the Genocide of Muslims."
Demanding serious actions against the guilty officers, members of Raza Academy said, "It's imperative to take actions against the culprit officers and to study the impact of this course on 800 Military officers who were taught this syllabus."
While talking to TwoCircles.net Saeed Noorie, Secretary of Raza Academy quoted from famous Obama speech to the Muslim World where he had said, "So long as our relationship is defined by our differences, we will empower those who sow hatred rather than peace, and who promote conflict rather than the cooperation that can help all of our people achieve justice and prosperity. This cycle of suspicion and discord must end."
Noorie demanded that the people promoting conflict must be brought to justice because they will create cycle of suspicion between America and the Muslim World.
Through a course, US military officers were being taught that America's enemy is Islam in general, not just terrorists, and suggesting that the country might ultimately have to obliterate the Islamic holy cities of Mecca and Medina without regard for civilian deaths, following World War-II precedents of the nuclear attack on Hiroshima or the allied firebombing of Dresden.
Following the outcry over the hateful course, the Pentagon has suspended the course in late April when a student-military officer objected to the material.