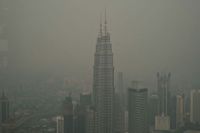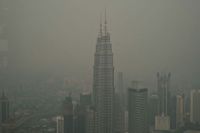 Smoke from forest and peat-soil fires drive air quality to unhealthy levels in and around the Malaysian capital city, Kuala Lumpur.
According to the reports, Malaysian environmental officials say the air pollution index in seven areas has shown figures as high as 150, which is classified as unhealthy.
The iconic Petronas Twin Towers have been shrouded in smog and city residents were forced to wear masks.
Visibility has been also lower than one kilometer in central Malaysia and some other regions.
This comes as disputes over haze flare up regularly between Indonesia and its neighbors across the region. The last row erupted in June last year when smog in Singapore reached a record because of Indonesian forest fires.
However, Malaysia's Department of Environment has said the pollution now blanketing Kuala Lumpur isn't being caused by forest fire smoke from neighboring countries.
"The medium-level of haze that the country is experiencing now is due to internal sources resulting from land and forest fires in a few states," the government said in a statement on its website, adding, "The chances of Peninsular Malaysia experiencing cross-border haze at this time are low because of the wind patterns."
Malaysia's natural resources and environment minister has said the government was taking serious practical step to handle the ongoing situation.