Asia-Pacific
China
Iran
Middle East
Health Ministry Spokesman: Iran Never Forgets China's Supports
Iranian Health Ministry Spokesman Kianoush Jahanpour underlined that his nation will never forget the supports and aid rendered by other countries, including China, in the fight against the coronavirus epidemic.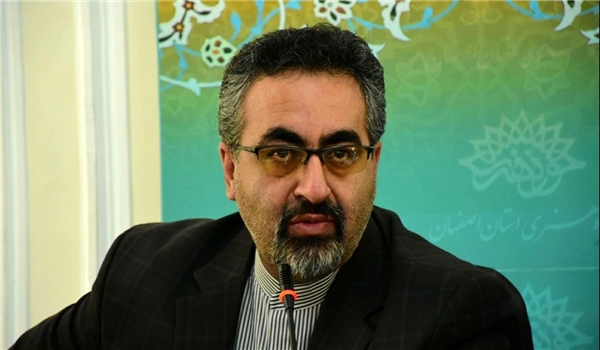 "The Iranian government and nation appreciate the governments and nations which have stood beside them, specially when coronavirus grew into a global pandemic, and of course, the historical memory of Iranians will not forget this part of the story either," Jahanpour wrote on his twitter page on Monday.
"Therefore, China's supports for the Iranian nation in these hard days cannot be forgotten," he added.
Jahanpour advised the enemies of good relations between Tehran and Beijing not to "become excited" by little differences which sometimes happen between the two countries.
In relevant remarks on Sunday, Iranian Foreign Ministry Spokesman Seyed Abbas Mousavi also lauded China's role in the international struggle against the COVID-19 pandemic and its efforts assisting other countries counter the outbreak.
"The government and people of China lead the way in suppressing coronavirus& generously aiding countries across the world," Mousavi said in tweet.
"The Chinese bravery, dedication & professionalism in COVID-19 containment deserve acknowledgment," he said, adding that Iran has "always been thankful to China in these trying times".
As of Sunday, confirmed cases of COVID-19 have topped 1.2 million cases across the world.
China, where the outbreak began last year, however, reported only 30 new infections on Saturday as infections surged in the United States and Europe.
Taking a break from what is appears to be the peak of the outbreak, China has sought to assist countries grappling with the pandemic by providing medical aid and supplies.
Iran, which sent several aid shipments to China during the height of the coronavirus outbreak in the country, was sent its ninth aid shipment from China on Sunday.
The shipment contained about one million items consisting of masks, protective clothing and medicine.
Speaking to Iran's President Hassan Rouhani last month, President Xi Jinping said the Iranian government and people offered sincere and friendly support and assistance to China when the virus first emerged in the country.
"To help Iran fight the epidemic, China has sent materials and medical experts to Iran," he said.