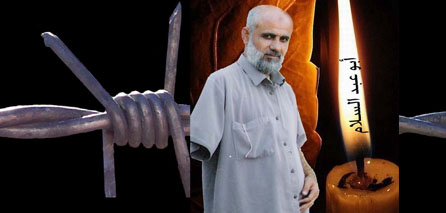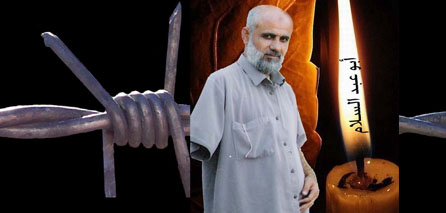 The health condition of Sheikh Jamal Abul Haija and Ahed Ghulma is deteriorating after six days of hunger strike, Fuad Al-Khafsh, the director of Ahrar center for prisoners' studies and human rights, said.
He said on Monday that lawyer Mohammed Abdeen managed to visit both in the Ramle isolation jail and quoted them as saying that they have decided to continue their open ended hunger strike even if it led to their death. They said that "life in isolation is (kind of) slow and systematic death".
The prisoners said that the prison administration offered them transfer to Jalbo isolation and to send them experts in isolation to improve their incarceration, but they refused insisting that they would only go out of Ramle isolation to other wards with other prisoners or to the grave.
The lawyer said that both prisoners looked exhausted but adamant on going ahead in their strike.
Khafsh appealed to human rights groups, international organizations, and the media to immediately intervene and launch a major solidarity campaign with the prisoners, warning that their life was in danger.
Abul Haija was one of the Hamas leaders in the Jenin refugee camp battle while Ghulma was accused of responsibility for liquidating former Israeli tourism minister Rahba'am Ze'evi. Both went on hunger strike since Thursday 25/11 demanding an end to their solitary confinement and allowing their families to visit them, which are legitimate demands guaranteed by international laws and norms.