Syria
Heavy Artillery Attack Kills Scores of ISIL Terrorists in Eastern Aleppo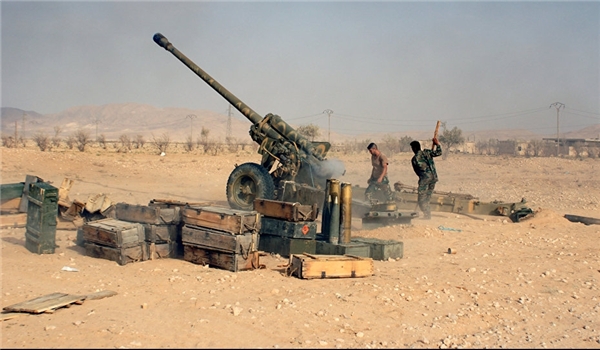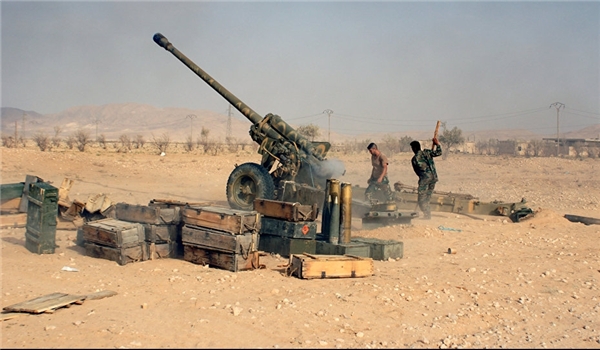 The Syrian army forces' artillery fire killed tens of Takfiri terrorists in the Eastern countryside of Aleppo city.
The Syrian army's artillery units attacked six bases and depots of weapons and ammunition of ISIL-affiliated militant groups in al-Tayibeh farms, As Sin and Barlehiya in the Eastern countryside of Aleppo city on Thursday.
The heavy fire killed tens of militants and wounded many others.
The Syrian Army and their popular allies continued to push the ISIL back from more lands in the Western part of the strategic Kuweires airbase following hours of fierce clashes on Wednesday.
The Syrian army troops and the National Defense Forces, in a heavy battle, killed tens of the ISIL terrorists and forced them to retreat forces from their positions near the village of Wadi'ah.
Wadi'ah and its surroundings are now under the full control of the Syrian government forces.
The ISIL left behind dozens of dead and wounded members and fled the battlefield.
Earlier reports said that the Syrian warplanes carried out several combat flights over the militant groups' sites, training camps, defense lines and gathering centers across the Northern province of Aleppo and targeted them successfully.
The militant groups' fortified strongholds in al-Enjlisiyeh graveyard region and al-Jandoul also came under massive bombardments of the Syrian fighter jets, which claimed the lives of many terrorists.
The Syrian air force also targeted the militant groups' defense lines in Tal Msaibeen, Ratyan and Bashkoy in the Northern part of the province, and near the city of al-Bab in the Northeastern part of Aleppo province, which left scores of the militants dead or wounded, and destroyed their military equipment.