Iraq
Middle East
Palestine
Hezbollah blasts treacherous Erbil conference on normalizing ties with 'israel', lauds Iraq's legal action
The Lebanese Hezbollah resistance movement has lambasted a recent conference in Iraq's semi-autonomous Kurdistan region, which called for normalization of relations with Israel.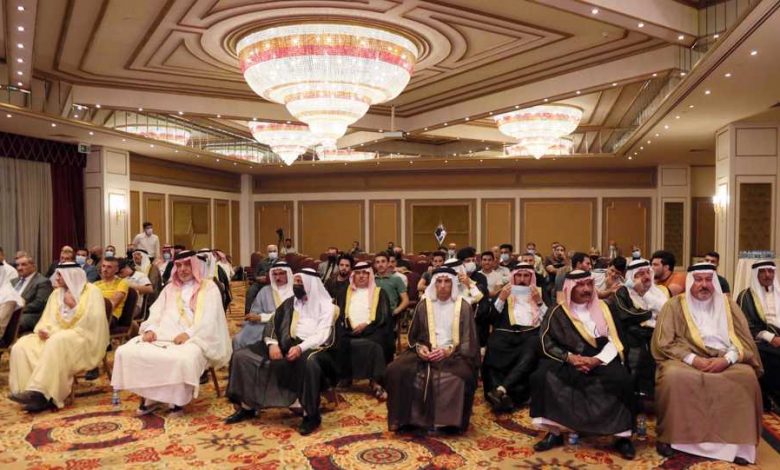 Hezbollah, in a statement released on Monday, also praised the position of Iraqi officials, political parties and popular and religious groups and their strong condemnation of the event.
The movement hailed arrest warrants issued for the participants of the conference, organized by US think-tank Center for Peace Communications (CPC), stating that the legal action reflects the awareness of the Iraqi people and political parties toward the normalization project in the Middle East.
Hezbollah further lauded the Iraqi nation's unwavering support for Palestinians and their legitimate cause.
Last Friday, more than 300 people attended a conference in a hotel in Erbil, the capital of the Iraqi Kurdistan region, during which they demanded that Baghdad join the so-called Abraham Accords and normalize relations with Israel.
The Abraham Accords were signed at the White House in September 2020 between Israel, Bahrain, and the United Arab Emirates. Morocco and Sudan later signed normalization agreements with the Israeli regime as well.
The Friday conference was welcomed by Israeli foreign minister Yair Lapid as "a hopeful event." Speakers at the conference included Chemi Peres, the head of an Israeli foundation established by his father, former Israeli president Shimon Peres.
Hezbollah also condemned the fatal shooting of five Palestinians by Israeli forces during raids that led to armed confrontations in the city of Jenin and other areas of the occupied West Bank on Sunday.
It stated that the killings expose "the criminal and treacherous nature of the Zionist regime."
Hezbollah also praised the resilience and heroism of Palestinian resistance fighters in the face of raids and arrests by Israeli military forces, and extended its condolences to the families of the victims.
Karbala mourners set Israeli flags on fire
Angry mourners torched Israeli flags during ceremonies held in the Iraqi city of Karbala to mark Arba'een, the 40th day after the martyrdom anniversary of Imam Hussein (AS), the third Shia Imam.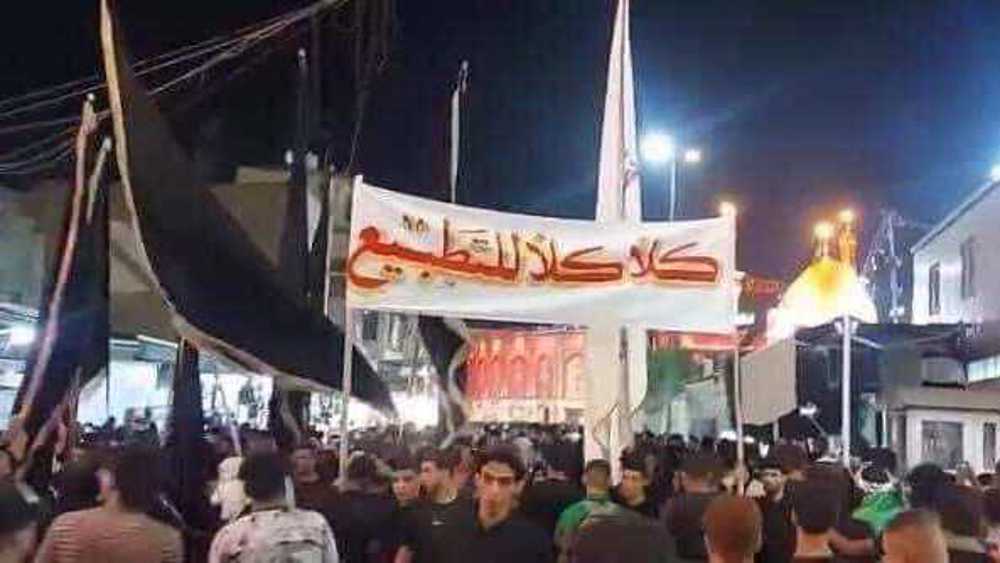 They held banners and chanted "Never, never to to normalization" as they entered the holy shrine of Imam Hussein (AS).
The Iraqi presidency on Saturday rejected attempts aimed at normalizing ties with the Israeli regime, and reiterated the Arab nation's strong support for the Palestinian cause.
On Sunday, a court in Baghdad issued arrest warrants for tribal leader Wisam al-Hardan, former lawmaker Mithal al-Alousi, and Sahar Kareem al-Taie, an employee of the Iraqi Ministry of Culture, the Iraqi Supreme Judicial Council said in a statement.
Their charges include participation in an "illegal meeting" held in Erbil, the court said.
The statement said the judicial council will take legal measures against other participants of the meeting once authorities get their full names.