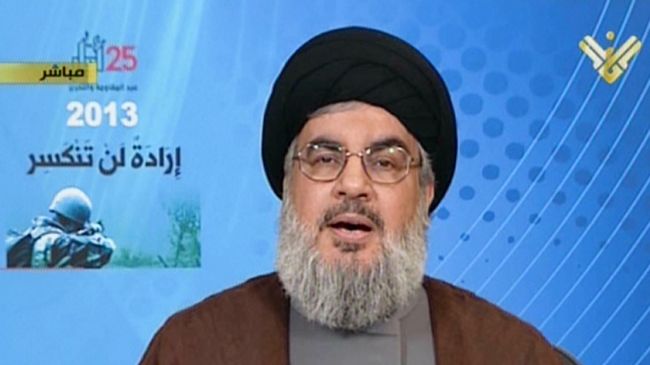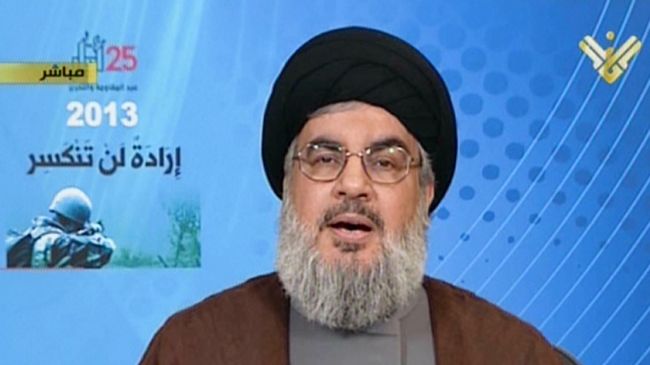 Hezbollah Secretary General Seyyed Hassan Nasrallah has congratulated the Supreme Leader of Islamic Ummah and Oppressed People Imam Sayyed Ali Khamenei, and the Iranian nation on the huge turnout in the presidential and city and village council elections.
Nasrallah made the remarks in a televised speech on Friday, the Fars News Agency reported.
"Iran demonstrated an example of public participation and national victory at the event (elections)," the Hezbollah secretary general noted.
The leader of the Lebanese resistance movement also described the Islamic Republic of Iran as a democratic country, in which everyone's vote is equal.
Nasrallah expressed hope that such "celebration of democracy" becomes prevalent in all Arab and Islamic countries.
Vote counting has been underway in Iran since late Friday. Hassan Rohani is in the lead in the Iranian presidential election, according to early results, and Mohammad Baqer Qalibaf is in second place. Iranian Interior Minister Mostafa Mohammad-Najjar announced early on Saturday that 861,866 votes have been counted at 1,631 polling stations so far.
On Friday, millions of Iranian voters headed for polling stations to cast their ballots and choose the country's 11th president as well as their representatives at the city and village councils.
Nearly 50.5 million Iranians, including more than 1.6 million first-time voters, were eligible to vote in the June 14 elections.
Hassan Rohani, who is the president of the Expediency Council's Center for Strategic Research, Supreme National Security Council Secretary Saeed Jalili, Expediency Council Secretary Mohsen Rezaei, Tehran Mayor Mohammad Baqer Qalibaf, former Foreign Minister Ali Akbar Velayati, and former Telecommunications Minister Mohammad Gharazi were the six candidates running for the presidential election.
Over 200,000 candidates also ran in the city and rural councils elections.