Lebanon
Hezbollah delegation holds 'open, friendly' talks with Russia FM in Moscow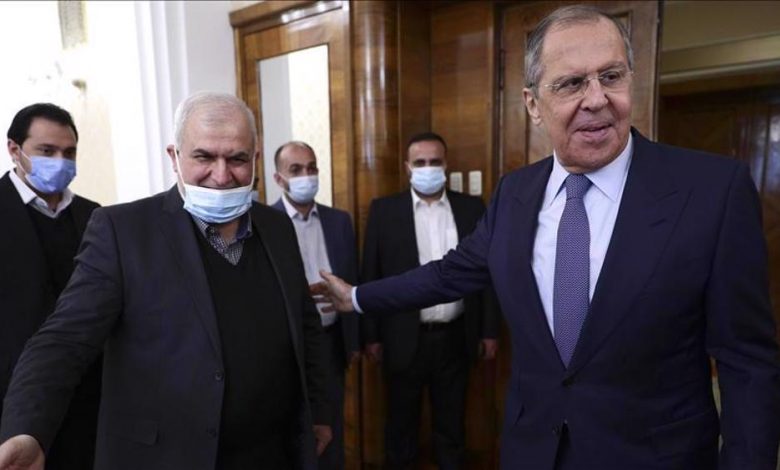 Russia's Foreign Minister Sergei Lavrov and a visiting Lebanese lawmaker from the Hezbollah resistance movement and his accompanying delegation have held "open and friendly" talks.
Lavrov met with Mohammad Raad, the president of the Loyalty to the Resistance Bloc, Hezbollah's political wing at Lebanon's Parliament, in Moscow on Monday, the Russian Foreign Ministry said without giving details.
The visit by the four-member Hezbollah delegation to Russia comes at a time when Lebanon is mired in its worst economic crisis in decades as well as a political stalemate over the formation of a new government.
Speaking after the 40-minute meeting, Raad said the discussions were "open and friendly."
"We discussed the latest developments in Lebanon and the region, as well as means to maintain stability and bolstering achievements secured in the field of counter-terrorism in both Syria and Lebanon," al-Manar TV quoted the Lebanese MP as saying.
He added that "Russia's support for friendly countries in the region, especially Lebanon" was also reviewed at the meeting.
Raad further stressed the importance of speeding up the formation of a new government in Lebanon "in a way that represents the people's will," noting that such a step is key to restoring stability and solving crises in the country. https://if-cdn.com/0BYAqhD?v=1&app=1
He had earlier told Russia's Sputnik news agency that the relationship between Hezbollah and Moscow is built on "common interests and a single or very close view regarding the situation in the region and the need for its stability."
Lavrov also met with Lebanon's Prime Minister-designate Saad Hariri on the sidelines of his visit to the United Arab Emirates last week.
Hezbollah was established following the 1982 Israeli invasion and occupation of southern Lebanon. Since then, the popular resistance movement has grown into a powerful military force.
During the 2000 and 2006 Israeli wars on Lebanon, battleground contribution by Hezbollah proved an indispensable asset, forcing the Israeli military into a retreat and shattering the myth of the occupying entity's invincibility.
Unlike the Western countries, Russia does not consider Hezbollah a terrorist organization.
"Some say Hezbollah is a terrorist organization. We maintain contacts and relations with them because we do not consider them a terrorist organization," Russian Deputy Foreign Minister Mikhail Bogdanov was quoted by Interfax as saying on Sunday.
"They have never committed any terrorist acts on Russian territory. Hezbollah was elected by people to the Lebanese parliament. They are cabinet members and ministers who are from Hezbollah in Lebanon. It's a legitimate socio-political force," he added. https://if-cdn.com/20lGinp?v=1&app=1
The Russian ambassador also referred to the tunnels under Lebanon's border with the occupied territories, which Israel claims to have been dug by the Hezbollah resistance movement, saying there was "no proof Hezbollah created the tunnels."