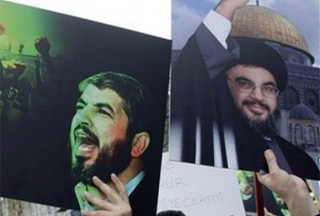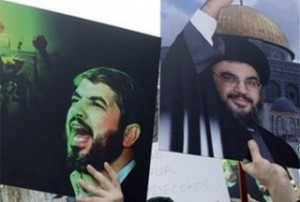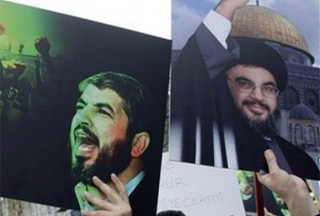 Hezbollah and Hamas leaders in Beirut call for Arab and international support for the popular resistance against the "hegemonic policies" of the US and Israel in the region.
Speaking at the Arab-International Support the Resistance Forum on Friday, Hezbollah Secretary General Seyyed Hassan Nasrallah described Israel as an expansionist regime established by "hegemonic powers" to push ahead their policies in the Middle East.
He said the separation wall in the West Bank, the siege on Gaza and the deadly three weeks-long war against Gazans were all aimed at crushing the resistance in Palestine.
Nasrallah assured that the moves had failed to shake the resolve of Palestinian and Lebanese activists and only strengthened their will to fight occupation.
He also warned the Muslim world against Israeli and US plots to deface anti-Israeli resistance and called for support against Tel Aviv's psychological war and threats of a new offensive on Gaza.
The conference is attended by representatives from 65 Arab and international union.
Addressed the conference, Hamas political chief Khaled Meshaal regretted doubts within the Arab and Muslim community and the need for conferences to explain the significance and legitimacy of resistance in Palestine.
He stressed that resistance is a legitimate right of every nation enshrined in all international laws.
The senior Hamas official said Israel considers Gaza as the weakest link in the Muslim world and a war against it the easiest it could wage. He, however, cautioned that any Israeli war would face strong resistance from the Palestinians.
Gaza will be the real killer of Israel, he said.
On Egypt's construction of an anti-tunnel steel wall on the border with Gaza, Meshaal urged Cairo not to take actions against its "Muslim brothers in Palestine but against its Israeli enemy."
He suggested the move was politically-motivated, saying security considerations could not justify such a move by an Arab nation against another Arab nation.
Gaza will never be a source of threat to Egypt, Meshaal underscored. It is the frontline in the resistance against Israeli occupation whose absence would have forced other Arab states to establish their own resistance movements.
Meshaal said his Hamas party was willing to hold direct talks with the Palestinian Authority led by the rival Fatah party to resolve the differences and establish unity among the Palestinian nation.
Meshaal is in Beirut for talks with top Lebanese officials.