Palestine
Hezbollah: Israel's demolition of Palestine homes amount to war crime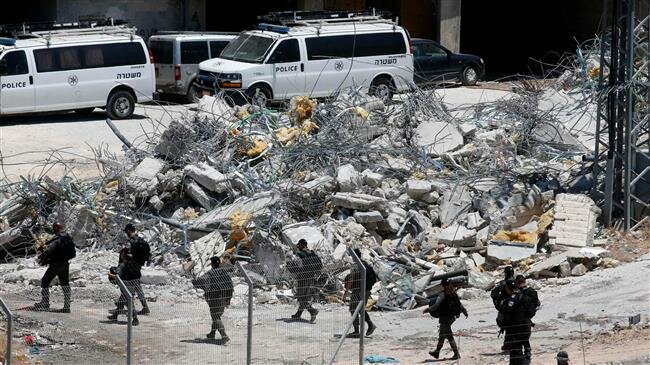 Lebanon's resistance movement Hezbollah has condemned as a "war crime" the Israeli regime's demolition of Palestinian homes on the outskirts of the occupied East Jerusalem al-Quds, saying such demolitions are the outcome of anti-Palestine plots hatched by the US and its Arab allies.
In a Monday statement, Hezbollah said Israel's destruction of Palestinian homes in the village of Sur Baher is aimed at expelling the Palestinians from their land and expanding the settlements built on occupied land.
The Lebanese resistance movement further criticized certain Persian Gulf littoral states for rushing towards normalization with Israel.
It said a US-led conference held in Bahrain last month to rally support for US President Donald Trump's controversial proposal for "peace" between the Israeli regime and Palestinians amounts to the normalization of Arab ties with the Tel Aviv regime.
The statement also denounced a first ever public meeting between Bahraini Foreign Minister Sheikh Khalid bin Ahmed Al Khalifah and his Israeli counterpart Israel Katz in Washington last week, saying it is further proof of Arab normalization with Israel.
The Lebanese resistance movement expressed "disgust" at attempts to harm the "Palestinian cause," saying the measures are intended to cover up Israeli crimes against Palestinians in East Jerusalem al-Quds.
International condemnations are pouring in following the Israeli demolition of scores of Palestinian homes in the village of Sur Baher.
World body slams Israel
The United Nations expressed sadness over the demolitions, saying "Israel's policy of destroying Palestinian property is not compatible with its obligations under international humanitarian law."
Meanwhile, the Arab League described the move as "the worst episode of Israel's crimes against the Palestinian people for decades."
The Arab League assistant secretary general for Palestine and occupied Arab territories, Said Abu Ali, called on the UN Security Council and the International Court of Justice to hold "Israel accountable for its crimes and put an end to its violations of Palestinians' rights."
France also slammed the demolitions, saying the Israeli move represents a dangerous precedent and violates international law.