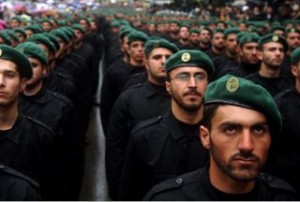 Hezbollah resistance movement deploys thousands of its fighters in southern Lebanon as Israeli forces gear up for military exercises.
"In the event of any new attack on Lebanon, the Israelis will not find anywhere in Palestine to hide," Hezbollah official Nabil Qaouk was quoted as saying regarding the Friday deployment, AFP reported.
The weeklong Turning Point 4 military drills are to be conducted in 68 Israeli cities and towns from Sunday Ha'aretz reported.
Israel has waged wars on Lebanon in 2000 and 2006 and on both occasions has been met with fierce resistance from Hezbollah.
About 1,200 Lebanese, most of them civilians, were killed in the 2006 war, in which Israel faced a humiliating defeat and was forced to withdraw from Lebanon after 33 days without achieving any of its objectives.
Tel Aviv has recently deployed its forces along the Lebanon border, firing flares over southern parts of the country.
Moreover, Israel, which frequently violates the Lebanese airspace, has stepped up its overflights, following accusations that Syria supplies Hezbollah with Russian-made Scud missiles.
Damascus and Beirut along with Hezbollah have rejected the allegations. Lebanese and Syrian officials say Israel is using the claim as a pretext to launch another war against Lebanon.
Hezbollah Deputy Secretary General Sheikh Naim Qassem said earlier in the week that Lebanon would emerge victorious and be able to rebuild, should it face another Israeli war.