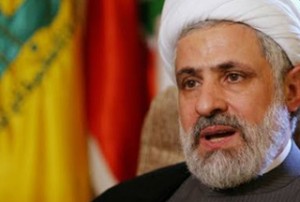 Hezbollah Deputy Secretary General Sheikh Naim Qassem has said that the Lebanese resistance movement is ready for any surprise from Israel.
"Hezbollah is prepared and ready for any surprise. As long as Israel exists in the Middle East region, it poses a considerable threat to the entire region and will try to give the wrong impression about Iran's civilian nuclear program," the senior Hezbollah official said in Beirut on Saturday.
Qassem added that the Hezbollah resistance movement is greatly indebted to Iran for its many triumphs and regards such achievements to be the result of the practical guidelines of Leader of Ummah Imam Ali Khamenei and Hezbollah Secretary General Seyyed Hassan Nasrallah.
Israel has not achieved its goal of ending Hezbollah's influence in Lebanon, and the Islamic resistance movement claimed victory in the 1996, 2000, and 2006 wars with Tel Aviv.
On January 2, the Hamas movement's political representative in Lebanon, Ali Baraka, said the Palestinian resistance group will fight alongside the Hezbollah movement should Israel launch a new offensive against Lebanon.
"We are guests in Lebanon and our policy will not change," Baraka said during a memorial service to mark one week passing since the death of two Hamas members in an explosion in Beirut's southern suburbs on December 26.
"However, we are committed to resisting Israeli occupation forces," he added.
"Israel should know that if it launches a new attack against Lebanon, we will not stand handcuffed. We will face the aggression side by side with our brethren in Lebanon — be they the resistance, the army, or the people, to repel the aggression," Baraka asserted.