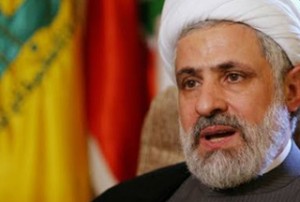 Hezbollah Deputy Secretary General Sheikh Naim Qassem says the resistance movement is ready for a possible act of aggression by Israeli forces.
The Hezbollah official made the remark in an interview with an Arab newspaper on Saturday.
Qassem, however, said that the latest warmongering remarks by Israeli officials do not mean that Tel Aviv is preparing for a new attack on Lebanese territories.
He further described the Israeli allegations that Syria is supplying Hezbollah with scud missiles as a "cover-up" for its somewhat uneasy ties with the US and for Israel's nuclear program.
Hezbollah-affiliated government minister Hussein Hajj Hassan also responded to the accusations on Friday, saying the movement's weapons are irrelevant to Tel Aviv.
Hajj Hassan said that Hezbollah is always preparing itself against foreign threats, but "what we have is not their (Israel's) business," Lebanon's al-Manar TV reported.
According to Hajj Hassan, Israel possesses all kinds of weapons so Lebanon will acquire every means it deems necessary to defend itself against an attack from Tel Aviv.
Earlier, the Israeli President Shimon Peres had claimed that Syria provided Hezbollah with Scud missiles capable of reaching targets anywhere in Israel.
Tensions mounted between Israel and Lebanon after the regime's forces crossed into the Lebanese border town of Abbassiyeh last week.
Israeli troops, however; withdrew from the town after Lebanon issued a warning.