Hassan Nasrallah
Leaders of Ummah
Lebanon
Middle East
Hezbollah totally ready to confront zionist military aggression at any time: Top official
Hezbollah Deputy Secretary General Sheikh Naim Qassem says the Lebanese resistance movement is fully prepared for confrontation in case the zionist regime opts to launch any act of aggression against the Arab country.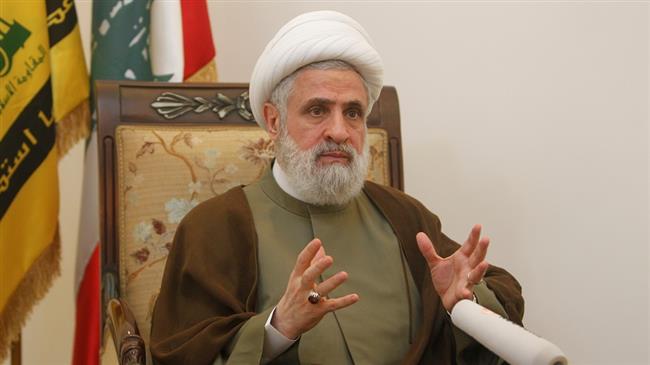 "On April 11, 1996, the Israeli enemy sought to sow the seeds of division between Hezbollah and the Lebanese nation through committing massacres. Several world states conspired with the Zionists after the so-called Summit of Peacemakers in the Egyptian port city of Sharm El-Sheikh in order to end the resistance movement," Sheikh Qassem said in an exclusive interview with Lebanon's Arabic-language al-Manar television network.
He was referring to a US-led summit on the so-called Middle East peace process, which was followed by an Israeli military operation against Hezbollah in southern Lebanon to end what the regime called rocket attacks on the occupied territories.
During the 16-day military aggression, the regime shelled a group of civilians taking shelter at a UN camp in Kafr Qana, killing over a hundred people and drawing harsh international criticism. The war ended on 27 April that year by a ceasefire agreement banning attacks on civilians, with no achievement for the Tel Aviv regime.
"The resilience of the (Hezbollah) resistance movement, people and the (Lebanese) army, however, compelled the Israeli regime to concede the humiliating defeat, stop its aggression on Lebanon and come to terms with the fact that Hezbollah reserves the right to fire rockets in response to any Zionist assault on Lebanese civilians," Sheikh Qassem added.
He added the 1996 April War established principles of deterrence and balance of power, which subdued the Tel Aviv regime, emphasizing that Hezbollah is now ready to confront any Israeli aggression on Lebanon whenever it occurs.
Israel not ready for war with Lebanon: HezbollahThe deputy secretary general of Lebanon
Last May, Hezbollah Secretary General Sayyed Hassan Nasrallah cautioned Israel against waging a war on Lebanon, stressing that "Israeli forces will be destroyed" in such a case. 
"All in Israel know that any war on Lebanon needs to be decisive and swift. Hezbollah remains fairly capable and utterly determined irrespective of sanctions imposed on it. The Zionist regime (of Israel) fears launching a new war, even on the besieged Gaza Strip, let alone Lebanon. All Israeli battalions will be destroyed under the eyes of mainstream media and the entire world, if they dare enter Lebanon. We will not compromise on even one iota of the Lebanese soil," Nasrallah said at the time.
Hezbollah to hit targets deep inside Israel in case of new war on Lebanon: Official A top Hezbollah official says the Lebanese resistance movement will hit targets deep inside Israel in case of new military aggression on Lebanon.
Israel launched yet another war on Lebanon 10 years later. About 1,200 Lebanese, most of them civilians, lost their lives during Israel's 33-day war on Lebanon back in the summer of 2006.
According to a 629-page report of the Winograd Commission, appointed by the Israeli regime itself, Hezbollah fighters involved in defending Lebanon against the Israeli war defeated the enemy and Tel Aviv was compelled to withdraw without having achieved any of its objectives.
The Winograd Commission was set by former Israeli prime minister Ehud Olmert in September 2006 to examine the events during Israel's 33-day war on Lebanon. It was chaired by retired judge Eliyahu Winograd.
The commission was formed in the wake of public criticism and protest over the fact that the Israeli military had effectively lost the war by failing to achieve its aim of freeing two soldiers captured by Hezbollah fighters.
UN Security Council Resolution 1701, which brokered a ceasefire in the 2006 war, calls on Israel to respect Lebanon's sovereignty and territorial integrity.