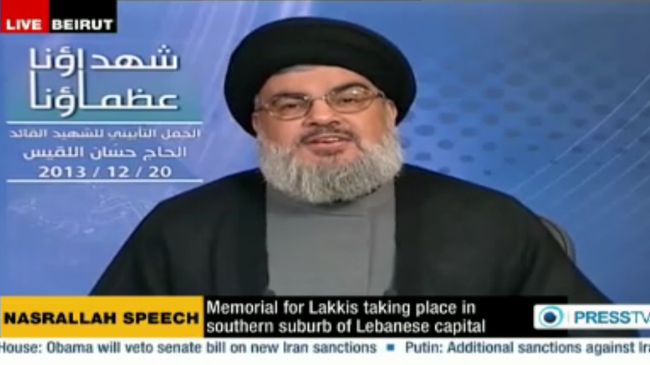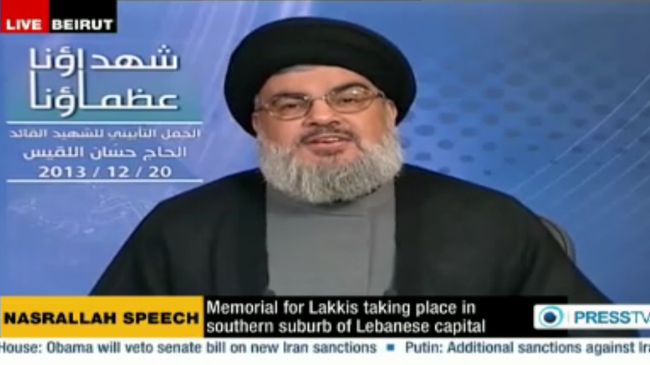 The leader of Lebanon's resistance movement, Hezbollah, says the group will punish the Israeli regime for assassinating one of its senior commanders.
"The killers will be punished sooner or later…. Those who killed our brothers will not know safety anywhere in the world," Seyyed Hassan Nasrallah said in a televised speech on Friday.
Nasrallah was referring to the assassination of Hezbollah's senior commander, Hassan al-Lakkis, on December 4, in his apartment building's garage near Beirut.
He said all evidence points to Israel's involvement in the killing.
The Hezbollah leader condemned the assassination as part of the enemy's psychological warfare against the resistance movement.
Nasrallah also rejected Arab media reports about the casualties the resistance movement has suffered in Syria.
"How can hundreds of Hezbollah fighters be killed on a daily basis in Syria?" he questioned, adding, "If such a rate were true, then the party would have been emptied of its members."
Nasrallah also said the war in Syria is not a sectarian war between Shia and Sunni Muslims, but a battle linked to the threat posed by Takfiri extremists.
He stressed that all Takfiri and Salafi militants fighting in Syria share the al-Qaeda ideology and thus pose a threat not only to Syria but also to Lebanon, Palestine, and all Sunnis.
"The Takfiri threat in Syria does not only target minorities, but it targets all who differ from it," he warned.
Syria has been gripped over the past three years by a foreign-sponsored militancy that has killed more than 100,000 people and displaced millions of others, according to figures published by the United Nations.
According to a report published by the International Center for the Study of Radicalization (ICSR) on December 17, up to 11,000 Takfiri militants from over 70 countries have joined the war against Syria.
On December 19, Amnesty International accused the al-Qaeda-linked Takfiri militants in Syria of serious human rights violations, saying that the Takfiri groups are involved in abducting, torturing and killing of detainees at secret prisons.