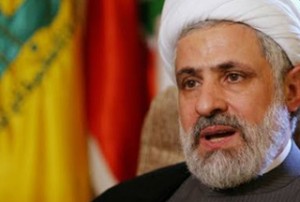 After the assassination of a senior Hamas official in Dubai, Hezbollah issues an alert against disguised entry of terrorists into Lebanon.
The Lebanese resistance movement's Deputy Secretary General Sheikh Naim Qassem urged vigilance against the terrorists who would attempt to clear the Lebanese customs using forged European passports.
Hamas commander Mahmoud al-Mabhouh was found dead in his room in a Dubai hotel on January 20, a day after arriving in the United Arab Emirates (UAE).
Dubai Police issued arrest warrants for 11 suspects, including 10 men and a woman, declaring that the passports used by the terror suspects to enter the UAE had been issued in European countries.
Most recently, Dubai Police Chief Dahi Khalfan Tamim said new evidence, including credit card payments and phone calls made by the suspects, confirmed the involvement of the Israeli Spy Agency, Mossad, in Mabhouh's terror operation.
Qassem also reiterated that with Mossad's role out in the open, the countries whose passports had been used to aid in the terror attack would now have to respond to some serious questions.