Middle East
Syria
Hezbollah Wins Control of over 90 Percent of Heights at Lebanon-Syria Border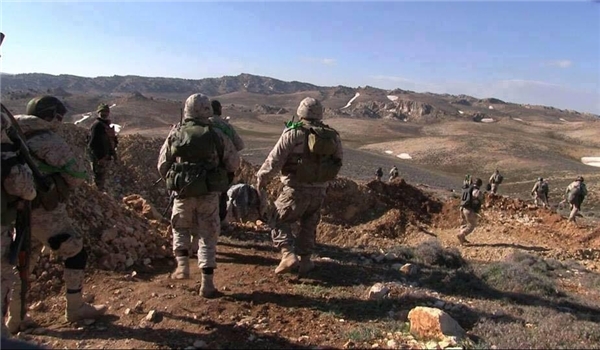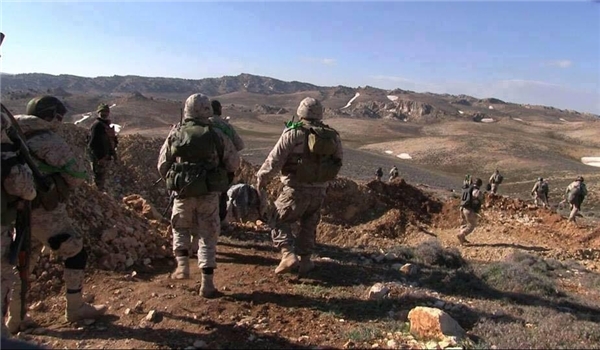 The Lebanese Hezbollah troops have driven the Al-Nusra Front (Tahrir al-Sham Hay'at or the Levant Liberation Board) out of more than 90 percent of lands in Arsal heights, field sources confirmed.
The sources said that the resistance forces engaged in fierce clashes with Al-Nusra and imposed control over the heights of Sarj al-Kharabah, Tal'ah, al-Nasab and Aqaba Nouh in Eastern Arsal.
Tens of Al-Nusra fighters were killed or wounded and three military vehicles and a missile Launchpad were destroyed in the attack, they added.
The sources further said that clashes are underway in the South of Wadi Hami, adding that the Hezbollah combatants have now almost 92 percent of Arsal height under control.
Relevant reports said on Tuesday that the resistance forces clashed fiercely with Al-Nusr and took control over the heights and positons of Wadi Komeil, Wadi Hamoudi, Maka'ah al-Feran, al-Bider, Sho'abat al-Nahleh and Wadi Zalil al-Barak.
The Hezbollah forces also fortified their positions in areas surrounding al-Malahi region.
According to some field reports, negotiations are underway for the surrender of Al-Nusra's Commander in Arsal heights Abu Malik al-Tali.
The General Command of the Resistance Operation in Lebanon confirmed earlier today that the Lebanese Hezbollah fighters' war on Al-Nusra Front in Arsal heights is on verge of ending after inflicting major losses on the terrorists in the last couple of days.