Syria
Hiding behind passenger planes, Israel's new dirty tactic?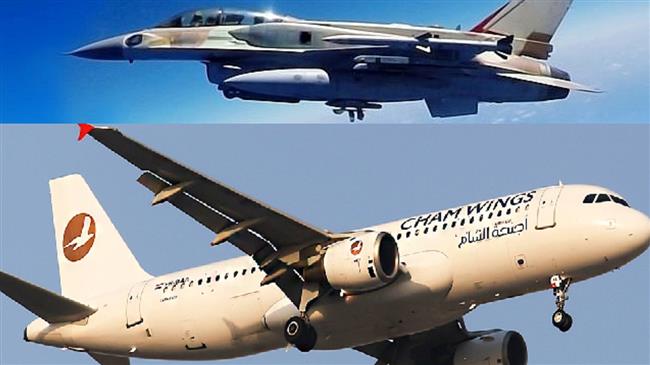 A day after the Russian Defense Ministry said that an Israeli airstrike on the Syrian capital endangered a civilian aircraft with 172 passengers, questions have arisen over what appears to be an Israeli plot to further escalate the situation in the region.
According to Russia's Defense Ministry's Friday statement, zionist Israel knowingly attacked Damascus as the passenger plane was preparing to land, with the aircraft only narrowly escaping the "lethal zone" of fire between Israeli missiles and Syria's missile interceptors.
The Airbus 320 was heading to Damascus from the Iranian capital Tehran early Thursday when it was forced to divert its route as the Syrian capital's air defenses intercepted Israeli missiles.
The Israeli attack took place as Syria troops were liberating the terrorist-held town of Saraqib in northwestern Idlib province, further tightening the noose on the foreign-backed terrorists there.
Israel uses civilian flight as shield to raid Damascus after Syrian troops liberate SaraqibRussia says An Israeli airstrike, carried out as Syria troops were liberating the terrorist-held town of Saraqib in northwestern Idlib province, has endangered a civilian flight carrying 172 passengers.
A Russian Defense Ministry spokesman said, "The Israeli use of passenger jets as a cover for its military operations or as a shield from Syrian missile system fire is becoming a typical trait of Israeli air force."
Russia had warned that Israeli airstrikes against Damascus were endangering civilian jets.
Israel, which has long boasted its modern detection radars and advanced means of aerial warfare, clearly had full knowledge of the civilian aircraft's position and the possible fallout of attacking Damascus as the plane was preparing to land.
'A deliberate attack'
Publicly available information shows that the passenger jet belonging to the private Syrian airline, Cham Wings Airlines, was in the vicinity of the capital, when it had to make a sharp 180 degree turn away from Damascus at the time of the attack.