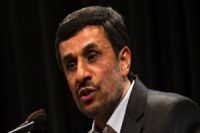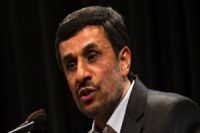 Iran President Mahmoud Ahmadinejad says high turnout of the Iranian people in the forthcoming presidential election will change all equations even at global level.
According to Press TV, addressing a meeting with governor-generals of Iranian provinces in Tehran on Monday, President Ahmadinejad added that big events are going to happen which will be in line with the ideals and goals of the Islamic establishment.
Noting that election is the right of the Iranian nation, President Ahmadinejad added that the nation will make its choice and nobody has the right to strip the nation of this right.
The Islamic Republic's eleventh presidential election will be held in June and presidential hopefuls will register from May 7 to May 11.
On January 8, the Leader of the Islamic Revolution Ayatollah Seyyed Ali Khamenei said Iran's enemies may try to prevent a high turnout in the upcoming presidential election in Iran by causing political, economic and security distractions.
The Leader added that one of the schemes of Iran's enemies is to prevent a mass turnout in the election by distracting people by creating a political, economic or security incident.