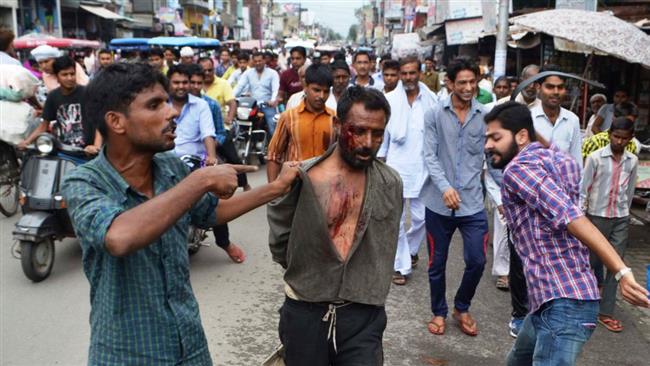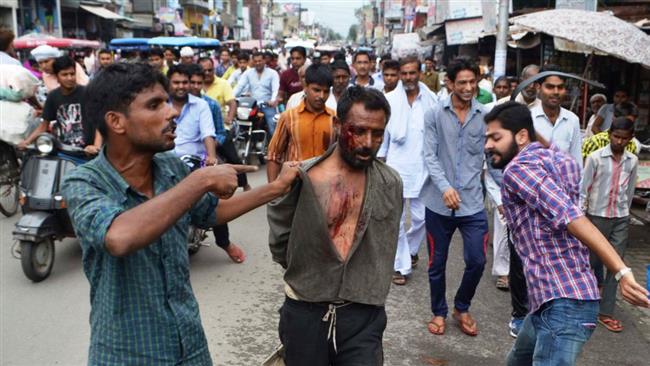 Footage has been released online purportedly showing members of an extremist Hindu organization thrash a Muslim man in India's northern and most populous state of Uttar Pradesh.
Videos posted on social media networks show radicals from the Bajrang Dal organization, whose ideology is based on fundamentalist Hindutva, verbally abusing the victim as a fanatic mercilessly beats the man, identified as Riyaz, with a belt in the city of Muzaffarnagar, situated approximately 130 kilometers (80 miles) north of the capital, New Delhi, and in front of a large number of onlookers.
The ill-fated Muslim man is being tormented on the accusations that he was attempting to slaughter a cow in Shamli district of the city. Riyaz, however, has dismissed the claims and said he was just present at the site, where the cow was allegedly being slaughtered.
Meanwhile, local civil groups have blamed Samajwadi Party and Bharatiya Janata Party – the two major Indian political parties – of rekindling sectarian strife in Muzaffarnagar.
In September 2013, clashes between Muslims and Hindus in the Shamli and Muzaffarnagar districts of Uttar Pradesh state killed more than 50 and left 50,000 displaced. Many among the Muslim community fled their homes seeking shelter at relief camps.
A total of 294 people were arrested over the violence, despite nearly 6,000 being named as suspects.
Displaced Indian Muslims said their makeshift homes were being demolished by the state government in order to avoid negative media attention, following a report that revealed 34 children had died in the relief camps.