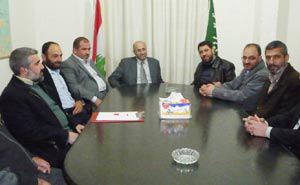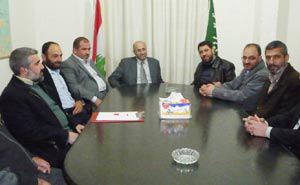 Hizbullah Mount Lebanon Official, Bilal Dagher, confirmed that what brings Hizbullah and the Islamic Jamaa together is religion, the message, the Quran, major issues, the Islamic view, and the resisting notion.
He referred that despite the circumstances that took place previously, the situation today has been restores, where there are regular meetings between both parties, in which they both discuss ideas and notes.
During a visit by a Hizbullah delegation headed by Bilal Dagher, to the Islamic Jamaa's headquarters in Barja, Dagher praised the latest clear stances of the Jamaa's leaders, weather regarding the Special Tribunal for Lebanon, or the resistance and its weapons.
On the regional Arab level, Dagher believed that the situation is worrying, and would lead to a new roadmap for the Arab World. He further hopes that the new roadmap would be of a new Islamic Middle East, filled with love and care.
On the internal level, Mount Lebanon Hizbullah Officials hoped the new government would be formed as soon as possible, referring to the livelihood unsolved matter that should be solved, and cannot handle any more postponement.
Furthermore, Dagher stressed on the importance of communication between the political forces and the Jamaa, in order to contain conflicts and conspiracies schemes against the nation and the country, by the Zionist enemy.
Bilal Dagher also confirmed the importance of the unity of the position and the Islamic stance against challenges.
On his behalf, Head of Mount Lebanon Islamic Jamaa Council, Sheikh Ahmad Othman, confirmed that the history of the resistance and the central Palestinian cause brings Hizbullah and the Islamic Jamaa together.
Sheikh Othman hoped what is happening in the Arab world would serve the Palestinian cause, warning from the Zionist scheme aiming at disintegrating the Islamic nation.
He also added, "The challenges facing us are very big. We are in need for a bigger role played by the political and factorial elites, where if these Arab revolutions did not serve the best, then the West would be ready to exploit any good Arab revolution, and turn it into its [West] service".
Sheikh Ahmad Othman believed that what is happening in Egypt and Tunisia are a good omen, hoping the rest of the Arab countries to undergo reforms that would guarantee and meet the people's rights.