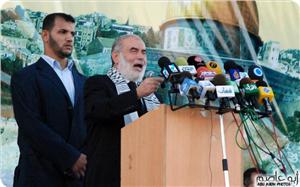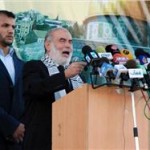 Dr. Ahmed Bahar, the first deputy speaker of the Palestinian legislative council, stated Tuesday that holding any Palestinian elections needs national consensus away from the Zio-American dictates.
"We want elections and not elections according to the American demand that yield forged and fabricated results," Dr. Bahar stressed during a popular meeting held in Jabaliya, north of Gaza Strip, in support of the Aqsa Mosque.
The deputy speaker underlined in another context that the occupied city of Jerusalem is exposed to a fierce Judaization campaign targeting the presence of Palestinians and the Islamic holy places.
He added that the people of Jerusalem need serious Arab and Muslim support to save the remaining Palestinian homes in their city and protect the Aqsa Mosque against Israeli attempts to attack it.
In another context, Abdelsattar Qassem, a political science professor in Al-Najah national university in Nablus, stated that the edict issued by Mahmoud Abbas to hold elections next January is illegal because he and the Palestine liberation organization (PLO) have no legitimacy.
Qassem added that Abbas's elections would not resolve the problems in the Palestinian arena and would further strain the situation.
He also said that if Abbas was serious about the election, he has to give guarantees first that the Palestinian Authority (PA) in Ramallah would accept the results, questioning the reason that would prompt the PA to accept the results of new elections, while it had already rejected the last ones.
Commenting on the inter-Palestinian reconciliation, the professor underlined that Egypt is not eligible for mediating between the Palestinian rivals or providing a fair solution to their problems because it is biased in favor of the Zio-American project.