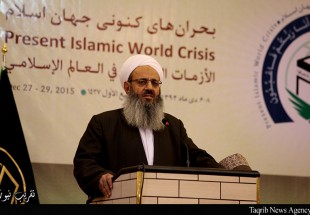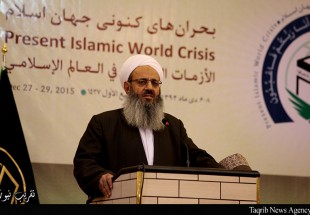 "Shiite and Sunnis paid too much for their unresolved disputations," mentioned prominent Sunni cleric, Molavi Abdol Hamid Esmaeil Zehi.
Speaking in the closing ceremony of the 29
th
edition of the Islamic Unity conference mounted in Iran Capital of Tehran, prominent Sunni cleric, Molavi Abdol Hamid Esmaeil Zehi underscored, "Shiite and Sunnis cost dearly for their unresolved disputations and unsolved problems," reported Taqrib News Agency (TNA).
He counted holding dialogue is an orthodox way for reasoning out the present problems. "We have the best of every things, Islam Prophet (PBUH), the holy book of Quran, and common sense," underlined the religious cleric.
"The world of Arrogance has parted Muslim countries," underscored the religious cleric stressing the sole cure for this setback is holding talks.
"We have the best civilization and culture," pointed out Molavi Abdol Hamid Esmaeil Zehi adding Muslims can resort to their Prophet Muhammad (PBUH), holy Book of Quran and common sense for sorting out their problems.
In his line, Muslims had had disputations since day one, and they paid enough for that.
Iranian Sunni cleric urged religious clerics to aware of their duty and sit at talks for putting an end to the current problems.
29th Islamic Unity Conference with the theme of "Present Crises of Muslim World and Ways to End Them" was held on December 27-29 December, 2015, concurrent with the birthday anniversary of Prophet Mohammad (PBUH), dubbed as Islamic Unity Week.