Iran
Middle East
Homegrown Yasin-90 missile hits targets during nationwide aerial drills
Iranian Army's Air Force has showcased its capabilities during a large-scale aerial exercise, which included hitting targets with homegrown Yasin-90 standoff missile and domestically-produced rockets.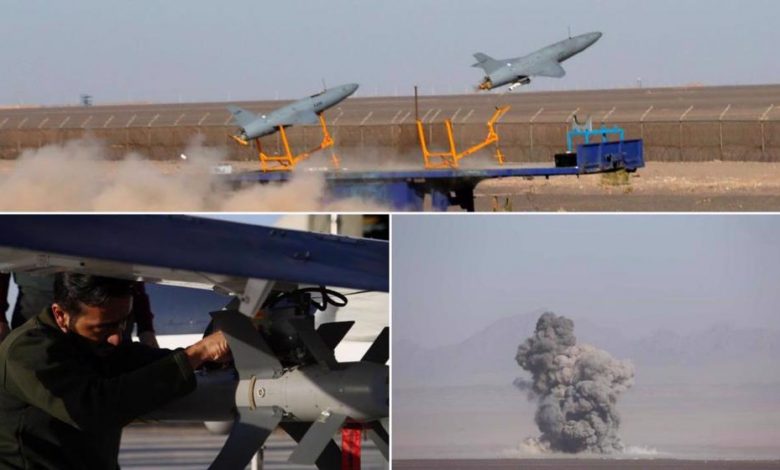 The Islamic Republic of Iran Air Force (IRIAF) began the nationwide drills, codenamed Fada'eeyan-e Harim-e Velayat (Devotees of the Velayat Sanctuary), on Thursday morning.
Commander of the IRIAF Brigadier General Hamid Vahedi said all IRIAF units had taken part in the drills, noting that aerial targets at different altitudes as well as ground targets were destroyed using smart and upgraded versions of the country's indigenous heavy and semi-heavy bombs, laser missiles and rockets.
"Prior to the operational phase of the exercise, RF-4 reconnaissance aircraft equipped with homegrown and advanced 'Samat' cameras, Kaman-12 (Bow-12) drones, and P-3F sea patrol aircraft collected signal data, engaged in electronic eavesdropping and photographing the area of the exercise," he explained.
Vahedi said that F-4 and F-5 fighter bombers equipped with precision-guided missiles and the F-7 fighter jet equipped with homegrown Yasin-90 standoff missile and domestically-produced rockets successfully destroyed vital mock enemy targets on land and at sea during the operational phase of the 10th edition of Fada'eeyan-e Harim-e Velayat aerial exercise.
"The IRIAF's strategic Sukhoi Su-24 bombers also carried out surprise long-range operations, hitting vital targets as well as ground radars of the [hypothetical] enemy using optimized laser and radar-equipped missiles," he added.
Iranian military experts and technicians have in recent years made great progress in developing and manufacturing a broad range of domestically-produced equipment, making the Armed Forces self-sufficient in this regard.
Iranian officials have repeatedly underscored that the Islamic Republic will not hesitate to build up its defense capabilities, emphasizing such abilities are entirely meant for the purpose of defense and will be never subject to negotiations.
According to Vahedi, Mirage F1 fighters and F-4 bombers flew at low altitudes and successfully practiced air interception operations while accompanied by F-14 fighters.
"Also, F-5 and MiG-29 fighters conducted air combat operations … during which the missile fired by the mock enemy aircraft was tracked and destroyed by air-to-air missiles," the commander added.
In remarks on Wednesday, Vahedi said the maneuvers are aimed at assessing the "combat capabilities of IRIAF units, increasing preparedness of interceptors, practicing the implementation of reconnaissance and operational plans, and establishing a right model that would suit real-life battle."
"The long-range endurance of the Islamic Republic of Iran Air Force fighter jets outside their defensive spheres, pinpoint accuracy of bombs and rockets in air-to-surface strikes as well as surveillance of the operational zone" would be put to test during the massive drills," he added.
The exercise came a week after the IRIAF and the Islamic Revolution Guards Corps (IRGC)'s Aerospace Division staged joint military drills in central Iran, during which they unveiled new homegrown air defense systems.
During the drills, codenamed "Modafean Aseman Velayat 1400" (Guardians of "Velayat Sky" 1400), the air forces conducted defensive maneuvers in the service of the country's "sensitive and vital" spots and tested the operational maneuverability of Iran's homegrown defensive equipment among other things.