Syria
Homs: ISIL's Remnants in Badiyeh Region Come Under Heavy Attack by Syrian Army, Air Force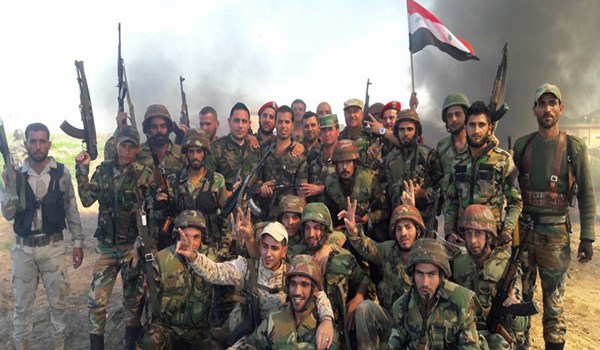 The Syrian Army and Air Force heavily pounded the military positions and movements of the ISIL terrorists in Eastern Badiyeh (desert) in Homs province, inflicting heavy losses on the remaining elements of the terrorist groups.
The Syrian Army engaged in fierce clashes with the ISIL terrorists in the surrounding areas of al-Bashri Mount and also outskirts of Humeimem region in Eastern Badiyeh, killing several terrorists.
Meantime, the Syrian Army's artillery units pounded the ISIL's military positions in the battlefronts, destroying several of their military vehicles and killing all the terrorists inside.
The Syrian warplanes launched consecutive attacks against the ISIL near Jabal al-Bashri and along the desert region of Badiyeh al-Sukhneh to the provincial border with Deir Ezzur province, inflicting heavy losses and casualties on them.
In a relevant development on Tuesday, the Syrian Army dispatched a massive military convoy to Palmyra in Eastern Homs from Damascus to clean up the ISIL remnant from Homs' Badiyeh region.
The Syrian Army has sent about 300 troops together with massive military equipment to Badiyeh al-Sham in Palmyra region in Eastern Homs from the surrounding areas of Damascus, a military source said.
The source pointed to the Syrian Army's military reinforcements near Palmyra, and said that the dispatch of the Syrian Army troops takes place in line with the army's military operations to fully get rid of the remaining ISIL terrorists in Badiyeh region of Homs.
Meantime, the Syrian Army and Air Force also pounded the ISIL's movements in Badiyeh al-Sukhna, al-Moizaleh Dam and Wadi Abyaz Dam in Eastern Homs, inflicting heavy losses on the terrorists.